Want to go to a place where it's all about gaming 24/7? Well, there is just the place for that, and it's called the Facebook Gaming App. There is a lot to explore and discover this app, and it's a gamer's paradise. Not only can you play, but you can watch others, and so much more. So let's get into the fun of the app and get started.

Facebook Gaming: Watch, Play, and Connect
Price: Free
Category: Arcade, Sports
Version: Varies by device
Developer: Facebook

Uninstall the app:
1. Go to Settings menu
2. Choose Apps or Application manager
3. Touch the app you want to remove
4. Press Uninstall.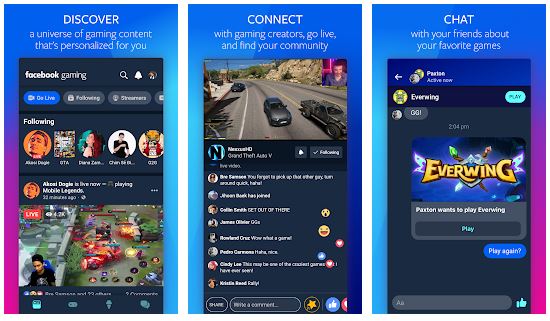 Watch
There is a lot to do in the world of gaming, and there are vastly more games than gamers, but this connects everything together. Wanna watch a game of competitive esports? You can watch directly from your phone and on the app, as top streamers duke it out for supremacy. Not a fan of the top dogs, there are a lot of underdogs to be rooted for, and if they're playing your favorite game, that's even better. There is a place to find your favorite game, but we'll discuss that a bit further. So who are you gonna watch? Will it be the top dog or an underdog that has yet to be discovered? The choice is yours, and the power to watch the game is in your hands.
Play
You can play all of your favorite games all from the app. The only difference is, there's no reason to ever stop gaming. On or offline, the app allows you to play your favorite Facebook games even while offline, you can't stream them though. There are so many ways to play, and you shouldn't have to wait for a wifi signal to play, you should be able to game when you want, not when the internet deems it so.
Discover
There is so much to discover in this app that you would need a whole day or more to get through the entire app, but one thing is for sure, you can get what you want easily enough. From gamer's to games, to finding players playing your favorite games, there is no end to the amount of stuff that you can discover on the app. You can watch, play, and look for anything you want while you are discovering the app.
Explore
There is a vast majority to explore. Just like the above category, you can discover by searching for everything. Now, with explore, you can browse the entire catalog of games that are readily available on the app. These are mainly Facebook games and other browser games. They will not require a download or have to have the internet to work. The best thing about exploring is that you can find a new game to play every minute. If you don't like a game, oh well, you tried, now you can explore the app to find another game you like. They're all playable offline, so enjoy all the games whenever you want. You can also browse the games being streamed by the streamers, and you can like, follow, and subscribe to them as well.
Why Should you get the app?
The writing is on the wall above. Not only will you get the opportunity to game to your heart's content, but you get to watch streamers do the same. The gaming is endless, and so is the fun. With the click of a button, and installing the Facebook Gaming mobile app, there is no internet slowing you down or stopping you from playing your games. So go install it today! Oh, are you not convinced? Did I mention that it's free to download? Yeah, that's a thing as well as the ability to buy in-app purchases, and so much more. The gaming world is at your fingertips, go join in on all the fun today