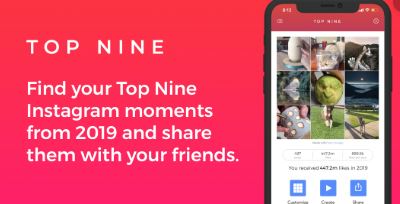 The Top Nine for Instagram - Best of 2019 has rave reviews. They are piggybacking on the success of the earlier 2018 version of the application. This app has tons of fun stuff to do, and is directly linked to your Instagram. They have new features that are available that help to further push the success of this app along into the future. To find out what all this app entails, stay tuned to the end.
Top Nine for Instagram - Best of 2018 review
The app had an amazing 4.5-star review from all users. This app allows people to connect to their Instagram, and easily create a collage for their photos. Any photos guests have can easily be put into a collage, or be used to put on the back of a phone case. With such great support from the Instagram users, it's no wonder why the Top Nine for Instagram - Best of 2018 app was downloaded so much.
Top Nine for Instagram 2019
Price: Free
Category: Photos, Social
Version: Varies by device
Developer: BetaLabs

Uninstall the app:
1. Go to Settings menu
2. Choose Apps or Application manager
3. Touch the app you want to remove
4. Press Uninstall.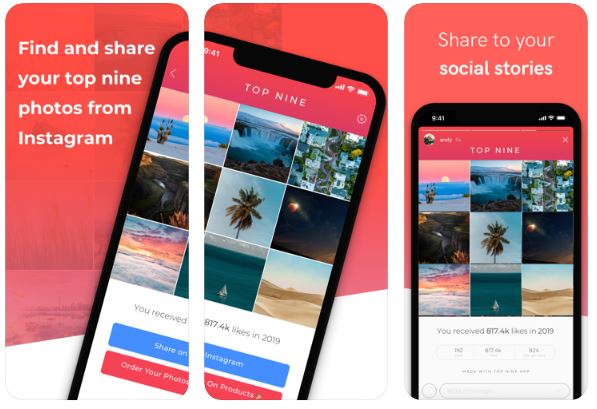 What Does the Mobile App do?
The new app allows users to easily put their Instagram photos, any of them, onto the Top Nine for Instagram app. Once the user gets the download, and they finish the Install, they can enjoy the collage making power of the app. You can create a collage of all your photos, nine of your photos, or more. With the app, you can add in text to make the pictures stand out more. Maybe photoshopping is your thing, well you can do their version of it directly from the app to. Another great thing that you can do with this app is to share to your social stories. It also allows you to be able to put any images of your choice and put it on any merchandise for customers or yourself.
What's New With the Application?
Well, the biggest thing that is new is that you can take all of your photos, and create a montage video. Say you have photos from 2012 or so till 2019. You can then take photos from 2012, and add them all to this app. Hit the create video button, and they will automatically make a video if all of your 2012 photos, and you can send it to any form of social media. The same thing goes for your 2013, 2014, 2015, 2016, 2017, 2018, and 2019 photos as well. Maybe you want to add them all together and caption the year when the 2012 photos start, you can caption it 2012, and then the first 2013 photo can say 2013 across the screen. However, you want to create your video montage or your video collage. You can do whatever you can think of with this app. The possibilities are endless, and you can create whatever you put your mind to.
Conclusion
With the features, they have enough to push the app into the future with the different functions that it has. The popularity of the app won't drop because its predecessor has such rave reviews, and they kept the old features and only added in few new ones to ensure that their users were still content with the application. The power to control your photos, edit them, create them, caption them in a photo, collage them, and now video them, is here, and you have full control over your social media life. Your friends will love all the cool and amazing new things you can do on your phone, and ask you how they can make theirs look just as good. This Mobile App is a must-have for any social media person, and is easy and free to download and Install. So what are you waiting for? Take control of your social media today!