The highly popular free AccuWeather Android and iOS weather app gets high marks for forecast accuracy and ease-of-use. In fact, they even trademarked their accuracy for both weather forecasting and storm alerts. It is called AccuWeather – superior accuracy™.
It is a snap to set up your favorite locations in this app such as home, work, your favorite picnic spot or a future travel destination. You will then enjoy real-time updates of high and low temperatures, precipitation probability, humidity, amount of sun expected and so much more. It even provides ultra-short-range forecasts, so you can find out when the rain that just started is like to end and vice versa.
AccuWeather
Price: Free
Category: Weather
Version: Varies by device
Developer: AccuWeather

Uninstall the app:
1. Go to Settings menu
2. Choose Apps or Application manager
3. Touch the app you want to remove
4. Press Uninstall.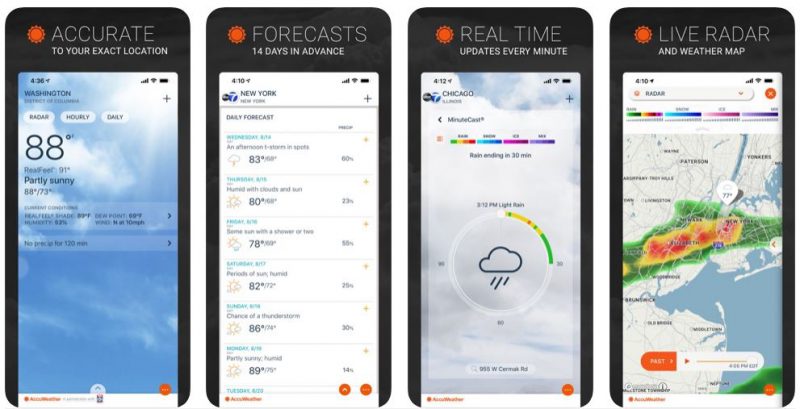 AccuWeather Forecasting Features
Cruise over to your device's appropriate app store and make a quick download for Android or iOS and start enjoying professional, precise weather prognostication with the following features:

Instantly displays the day's weather forecast based on your current location
Hyper-localized forecasting right down to your street address
See the forecast in numbers, icons, text or video
RealFeel Temperature® technology provides more accuracy than just temperature can
Status bar temperature display available in centigrade or Fahrenheit
All local forecasts can be personalized plus you can customize filters for updates
They recently added allergy conditions forecasts
Forecasts can be consulted up to 15 days ahead
AccuWeather's MinuteCast® tracker provides real-time, right-now forecasting
Regional, animated radar maps also provide you with the big picture weather-wise
Storm alerts of hurricanes, tornadoes, high winds or other severe weather keep you out of harm's way
Easily track your local weather or keep a weather-eye out on your friends' locations or your next travel spot.
Install AccuWeather Superior Accuracy™ Today
The AccuWeather mobile app is available for Android 4.2 and higher. There is also an Apple device version that just needs iOS 11.0 and up to run. While it is just a 40 MB download on Android, it takes over 200 MB for iOS devices.
The base app provides all the features you need for accurate forecasting, but you can enhance its capabilities or go ad-free with paid addons that start at about a dollar.
Know What the Weather Is Before Venturing Out
There are, of course, plenty of weather forecasting apps our there for your mobile device that you are free to try out, but we do not think you will be disappointed by the design, features and accuracy of the AccuWeather weather app. Accurate, timely weather forecasting can make or break your day, so do not hesitate to install this one right away.