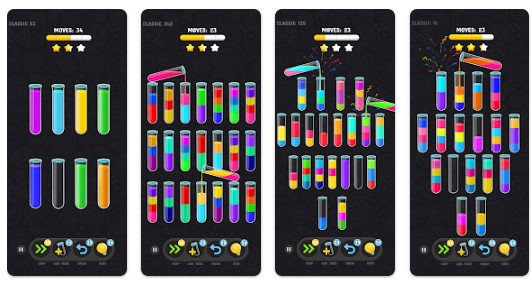 Sometimes you need a simplistic puzzle game that will have a soothing effect instead of frustrating. The Color Water Sort Puzzle Game is balanced and has a fun concept that keeps you coming back for hours of fun. It empowers you to enjoy a more colorful experience while putting your intelligence to the test. It's good to gain cognitive benefits daily and thrive mentally. The soothing effect of sorting colored liquid can help you unwind, and this game is accessible to all ages.
Puzzle games have been proven to help you develop mentally. They are an excellent way to supplement the time and give your brain a nice stretch. Some people enjoy puzzles at different times, and this app can be enjoyed anywhere without significant loading speeds. It will be fun and intense to beat that elusive level finally. Let's pour out the details of this excellent mobile app and review a valuable addition to your mobile puzzle collection!
Color Water Sort Puzzle Games
Price: Free
Category: Casual
Version: Varies by device
Developer: TapNationr

Uninstall the app:
1. Go to Settings menu
2. Choose Apps or Application manager
3. Touch the app you want to remove
4. Press Uninstall.
Features and Benefits
The first benefit of the Color Water Sort Puzzle Games app is that you will get mental benefits immediately. Our brains spend too much downtime throughout the day, where general intelligence can deteriorate without stimulation. If you're solving puzzles that take cognitive effort, then this will naturally translate to your real life with other improvements. Sorting the bottles can help you with pattern recognition and coordination. Sorting the tubes is challenging and fun, with rewarding results waiting for you!
A neat feature is you will play with different styles of cups to balance the liquid. It takes awareness of the colors to get through each puzzle, and you need to sort the water so that they match. There is an exciting rule that gives it a fun twist. You must pay attention to the amount of liquid in each vial and coordinate the color, or it can't pour. This adds another element of surprise and challenges you to think ahead more. It will encourage you to develop patience and take caution before making decisions. You have the benefit of thinking through each puzzle and gaining the satisfaction of completing it.
The complexity of this app is just deep enough to be challenging but not frustrating. It's like putty for the mind and can enhance your prediction skills as you improve. Sometimes it's better to look before you leap, and that's certainly the case with Color Water Sort Puzzle Games. At the end of each level, you will earn some jewels after troubleshooting and coming out victorious!
These jewels unlock more features, like adding hints to each level, so you don't get stumped. One of the best benefits is you can easily restart any puzzle if you get stuck. This game isn't as frustrating when you're confused as other puzzle games. It's very colorful and addictive for long-term play. It allows for single-finger control so you can do other things. Many exceptional levels help pass the time constructively for your mind.
You won't have to worry about a pesky time limit pressuring you to make a move. You must sort the jigsaw puzzle into the appropriate tubes and push forward with an assertive mind! The sounds are pleasant and relaxing and keep you in a peaceful state of mind while playing. This app also has some fun and unique game modes to discover as you progress. The challenges are what give you the opportunity for improvement and put you to the test. Puzzle games of the past have been unforgiving, but with these hints and a soothing interface, it will be smooth sailing to play this app.
Things might be more challenging than you anticipated, but failing before succeeding is part of the process! There is a move counter that will help you see improvement as you get better at solving these colored vial puzzles. It's mentally and visually stimulating for hours of fun. You will feel the improvements develop as you continue to enjoy this addicting experience. It's a staple classic of the puzzle genre, and now you can opt out of both video and audio ads by upgrading. The containers will start small and gradually increase to more complex puzzles as you anticipate the next challenge! This is primarily an adult game with a more sophisticated puzzle-solving theme, but it can still be enjoyed if you're younger. Keep in mind that in-app purchases might enhance your experience even more.
Pro's & Con's
Pros
Beautiful colors that stand out
A wide variety of vials to pour into
Challenging and fun for all
Keeps the brain sharp
Cons
Could give you a headache after a while
Might be difficult for some
Ads are present unless you buy the upgrade
Conclusion
The Color Water Sort Puzzle Games mobile app is simplistic and rewarding. It's a fun puzzle game that will teach you to think about various colors and their relationship to any cup or vial. The variety of this app is enough to consider playing because you will be entertained for hours solving these addicting puzzles. The colors draw you like a moth to the flame with excellent visuals and attention to detail.
As the experience evolves into a considerable challenge, new challenges await each level. Despite this harsh reality, the atmosphere doesn't make you feel tense or pressured. They have designed it to be enjoyable and thought-provoking. You'll need to be mentally active when thinking about decisions. This is much better than staring at a tv show because it activates the puzzle-solving areas of your brain! Download and install the Color Water Sort Puzzle Games app today and crack the sorting code!