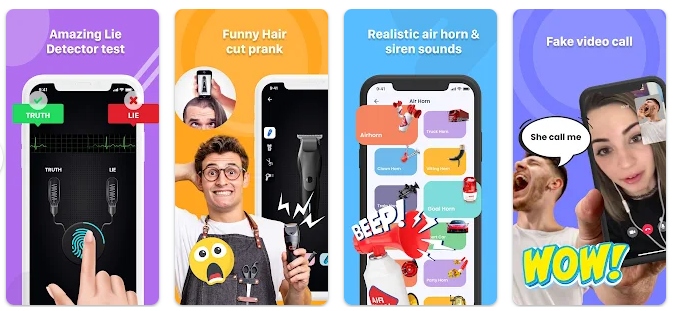 You have probably heard of sound simulator apps often tied to comical moments. However, the Call Prank Fake Sound mobile app goes above and beyond with a more versatile collection of sounds for every occasion. It's fun to make each day less ordinary with the power of technology through mobile apps. This intriguing idea will put a few more laughs into your routine. It's one of those apps that is usually more enjoyable when sharing or pranking those around you. You can get shocking responses if someone believes you burped or farted near them.
These are the more cliche ones, but some unique features and categories exist to explore. You will benefit from having this app downloaded around the spooky Halloween season because it will be an arsenal of jump scare sounds that will help frighten your friends. It's perfect for some honest, harmless mischief around groups to trigger a reaction. The ability to make fake sounds is highly underrated, and it's more accessible now with a mobile app. Here, you can explore the wonderful world of prank sounds that will fool anyone and stimulate a much-needed laugh in this tense world. Let's look at the features of the Call Prank: Fake Sound mobile app and discover its benefits!
Call Prank – Fake Sound
Price: Free
Category: Entertainment
Version: Varies by device
Developer: ABIBusiness Global LTD

Uninstall the app:
1. Go to Settings menu
2. Choose Apps or Application manager
3. Touch the app you want to remove
4. Press Uninstall.
Features and Benefits
The first feature you'll notice right after downloading is that this app features many categories to explore for your pranking pleasure. It's considered a pranking and sound-simulating app that goes beyond the standard sounds. This sophisticated prank tool has been developed deeper so you can get the most out of a dull day and make it funnier. There is one unique setting where you can fake your phone being smashed, which will make someone very concerned. It's compelling and will generate laughs when people admire your acting performance. Another exciting feature is the lie detector test, but this is obviously a fake one, but it's still entertaining and funny. It adds an exciting twist that increases the tension.
When it comes to crisp audio, this app gives you good sound with a decimal boost for genuinely epic results. For instance, it takes a higher audio level to trigger a jumpscare effectively, and the sound increase makes a big difference. You can set a timer for your prank or place it on a loop so you get continuous results that can be even funnier. Put your acting skills to the test by simulating a fake video call. It's an excellent way to avoid people you don't want to speak with by subtly pranking them and appearing busy. So you've probably heard of the timeless fart noises, and it all started with the whoopie cushion. Most people have owned one at one time or another, but now you can create a fart symphony with this hilarious app. One of the features is the biggest fart soundboard ever made.
Not all the sounds are bodily functions, though, because the app has fake razor sounds for haircuts, tasers, air horns, breaking sounds, and much more! The sheer variety of soundboards in this one app is enough to consider it for some immature chuckles. Another unique feature is the laser pointer setting which will surprise people that it's being simulated on your phone. This is a good tool for getting some funny reactions from people and encouraging laughter. If multiple friends download it, it can theoretically become a prank war. Most people don't see these pranks coming, so it's easy to show someone in line just for a laugh. You might have a mask that looks great, but you can't make a scary sound to startle others. Well, if you use this soundboard, it can aid you in sounding spooky.
Everyone knows how long it takes for hair to grow, so imagine feeling like someone is randomly shaving your head with an electric razor. Now that's a funny prank idea where no one gets hurt. If you're a fan of April Fool's day, this can be your secret weapon on this distinctly mischievous holiday. There are air horns and siren sounds that you can use to fool others. One benefit of this app is they are harmless pranks that brighten people's day and make them smile. Or you can simulate more awkward severe moments, like after someone drops a glass and shatters it on the floor. This app has endless possibilities for pranking, but it should always be used in good taste and not too excessively.
Pro's & Con's
Pros
A wide variety of prank sounds
An addicting experience to prank others
A cool lie detector test
scare, cheer on or shock your friends
An exciting experience with laughs in store
Cons
Might be too immature for some
There are too many ads
Certain things become less funny over time
Might accidentally annoy others
Conclusion
The Call Prank: Fake Sound Mobile App is more of a tool than a game with incredible soundboards. It gives you various combinations to get creative with your prank and enjoy the reactions. This app won't get stale regarding your selection of sounds, but it might get old because of the ads. Still, it's worth some laughs on a rainy day when you're stuck indoors and feel like pranking. The best part about these sounds is they are high-quality, realistic, and accessible. Since you always have your phone, it is a tool to do spontaneous pranking and get a laugh out of people. Pranking modernly requires an app like this to make it easier. Download and install the Call Prank: Fake Sound mobile app today to start having a blast!