The Credit Sesame Mobile app is the right tool you can utilize without a credit card to monitor your overall credit effectively. The first benefit is you obtain your free credit score and access to information that can help you increase it. Many people need help stabilizing their scores, and the Credit Sesame Mobile app has the answers from anywhere. With this app, you will receive personalized tips for getting your number increased in no time. One of the main features that stand out tremendously is the ability to earn cashback while watching your score increase. If you're concerned about your credit then these are some professionals you can trust with this along with other banking endeavors. The combination of both is perfect for monitoring your score and encouraging wise spending.
Credit Sesame
Price: Free
Category: Finance
Version: Varies by device
Developer: Credit Sesame, Inc.

Uninstall the app:
1. Go to Settings menu
2. Choose Apps or Application manager
3. Touch the app you want to remove
4. Press Uninstall.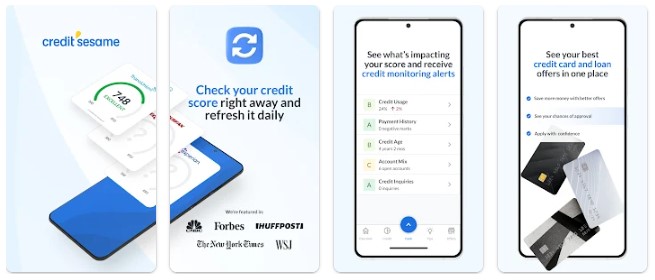 When it comes to credit, it's common to get confused or left in the dark about the finer details. That's why this mobile banking app will help you further your banking while increasing even the lowest credit score. You will gain a support network regarding financial situations and this app has been crafted to help you in achieving growth with longevity. A credit report card is offered that goes into depth about what's specifically impacting your score. This is valuable information that will encourage better habits to improve it. Another great benefit is the ability to earn 15% cashback at qualifying retailers with many possibilities. It's the perfect account to make the most of spending and get something in return. Taking control of your credit is not an easy task. Thankfully, you can utilize this app to its full potential by following their suggested plan of action based on your individual profile. This customized plan is a major benefit because it shows you the weak points and how to improve. Theft is often a concern with any bank, and this app has you covered with theft and fraud protection in case of an emergency.
Your account is monitored for suspicious activity and it's 24/7 for free which is a great deal! Security is very important and you'll get more than enough here to keep your account safe. Other features include the ability to track how much you can borrow across various credit cards, mortgages, and even lucrative refinancing possibilities. Regarding theft and identity threats, you're protected up to one million dollars so you can be at ease no matter what happens in the future. This peace of mind is something that is lost on some other apps, and they take security very seriously to accommodate all users. You can benefit from making the most out of all your finances with the Credit Sesame Mobile app. It will accompany you with the necessary alerts so you can keep a close watch over everything. Here you will find an enriching environment with an app that cares about your financial well-being. The Robo Credit technology they implement is useful for discovering your tailored plan to take action and watch your bank account and credit score soar!
If you have any questions about their process then they are happy to help you find out anything regarding your credit score. This is a trusted app that gives you reliable results and predictions about your financial future. One of the best benefits of this app is you don't have to be alone when it comes to a daunting credit score. Different behaviors can cause it to fluctuate unfavorably sometimes and you might not even be aware of how bad they really are. This app will give you the knowledge to thrive and make positive changes towards your financial future. It's like having a personal assistant to keep you on track 24/7. The straight and narrow path towards good credit starts with understanding what you're doing wrong. These are great suggestions that can change your life if followed, and you can rely on this trustworthy source of information. There are many other uses for this app like if you're looking to purchase a new home. Here you can examine the possibilities based on your credit and it's a great place to start.
Pro's & Con's
Pros
An excellent tool for finances and credit
Improve your credit with reliable suggestions
Find out where you stand to get loans and buy a house
Learn about what impacts your credit negatively
Cons
A lot of ads that bother you to sign up for credit cards
credit score might randomly drop down to zero
May not be able to see your future credit score
Conclusion
The Credit Sesame mobile app is a perfect reliable choice that will help you by going the extra mile in all aspects of your personal finances. You need to keep track of details that would otherwise slip your mind, and monitoring your credit score is vital for the future. You can achieve multiple tasks with this app and examine where you qualify regarding important loans and mortgage options.
It could possibly be organized a little better and run smoother, but they do a good job at keeping your account secure and give valuable advice. Download and install the Credit Sesame Mobile app right now to start taking control over your finances and watch your score increase!