The Allrecipes Dinner Spinner app can help you make the perfect meal. Allrecipes Dinner Spinner gives you mobile access to all of the recipes on the Allrecipes website. What can you do with this handy cooking aid?
The main reason to download Allrecipes Dinner Spinner is for access to recipes. This application doesn't disappoint in that regard. In fact, Allrecipes Dinner Spinner gives you access to over 30 million recipes as soon as you install it. Best of all, you can easily search these recipes in creative ways.
For example, you can search for recipes based on dietary needs or restrictions. You can also search for recipes based on how long it takes to make them or by certain ingredients. It has never been easier to find a recipe that your whole family will enjoy.
Allrecipes Dinner Spinner
Price: Free
Category: Food & Drink
Version: Varies by device
Developer: Allrecipes.com, Inc.

Uninstall the app:
1. Go to Settings menu
2. Choose Apps or Application manager
3. Touch the app you want to remove
4. Press Uninstall.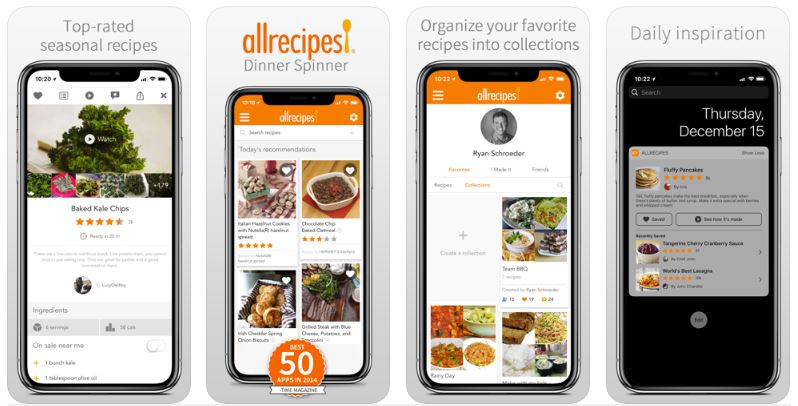 You can even search for recipes based on reviews. Each one has a user rating from others who have used Allrecipes Dinner Spinner. Even with so many recipes to choose from, you can still find fan favorites.
Videos Provide Visual Aids
One thing that I liked about the Allrecipes Dinner Spinner is that it offers thousands of videos. If you aren't great at cooking (like me), they show you how to get a recipe right the first time. While it's a shame that not every recipe has a video, a large amount of them do. After watching enough of these videos, you could probably make recipes that didn't include videos with more confidence.
Free With Ad Support
Allrecipes Dinner Spinner is completely free to download, which is always great. Like with most applications, the creator is out to make money somehow. For Allrecipes Dinner Spinner, the money comes in the form of ad revenue. Because of that, you'll have to deal with some ads from time to time. However, this is a pretty small price to pay for over 30 million recipes.
Beyond the ads, the only real problem I ran into was a few glitches. Sometimes, the videos would stop playing, or the application would simply crash for no apparent reason. These glitches didn't ruin the experience, but it is worth pointing them out. Usually, a quick restart of the application fixed any problems that I had.
Give Allrecipes Dinner Spinner a Try
Its never too late to install Allrecipes Dinner Spinner. The great thing about this app is that you can use it all year round. With over 30 million recipes, it offers a little something for everyone.
While I ran into a few glitches and hiccups, all of these were easily fixed with a quick restart. Even though you have to put up with some ads here and there, it's free to use, which makes it more than worth checking out.