Amazon Prime Now's mobile platform is a convenient and inexpensive way to setup deliveries from your favorite local grocery stores and restaurants. Instead of spending time at the store, you can utilize the Amazon Prime Now digital app platform to schedule a delivery instead. This is an extremely popular platform that is expanding into more locations every single week. There is already a significant list of available areas and regions that are supported, but that list of regions continues to grow at a rapid pace.
Amazon Prime Now
Price: Free
Category: Popular Now, Shopping
Version: Varies by device
Developer: Amazon Mobile LLC

Uninstall the app:
1. Go to Settings menu
2. Choose Apps or Application manager
3. Touch the app you want to remove
4. Press Uninstall.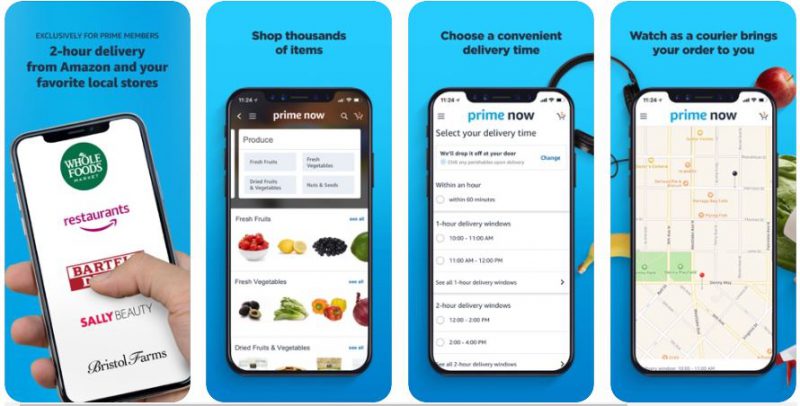 We are going to cover several of the in-depth benefits and features that are available in the next section of this review, but it is worth noting that there are three ultra-fast delivery options that can be used to get your deliveries within minutes or hours, depending on what you need. The Amazon Prime Now platform is open all day long every single day. The simple user-interface is certainly one of the most popular design aspects, but customers have been happy with just about every single aspect of the app.
Thousands of existing users have reported positive experiences with the app, but there are still a few minor issues that need to be fixed within the user-interface. These problems are extremely minor, and they typically don't cause any problems that would ruin your experience. We are now going to shift our focus to specific features, benefits, and locations that are available within the Amazon Prime Now mobile app.
Features and Benefits
The convenient delivery windows are ultra-fast and will get your deliveries to you within hours or minutes. The convenient user-interface is extremely effective and popular among users as well. You can navigate through restaurants and grocery chains that have partnered with Amazon Prime to deliver this outstanding experience. Several local stores are also included with several of the supported regions and jurisdictions.
As we briefly mentioned previously, users can schedule ultra-fast delivery by selecting one of the preset delivery windows that are provided. The 2-Hour Delivery Windows are typically pretty popular with users because they can schedule their deliveries a few hours ahead of time. The good news is that last minute deliveries are also supported, but you'll have to select the 1-Hour Delivery Window or the Ultra-Fast Delivery Window that gets delivered as soon as possible.
These delivery options also make it easy for you to know when the products or food will be delivered. This way, you can be prepared at home to receive your delivery in your preferred time-window. There are several reasons to download and install the Amazon Prime Now digital app, but the convenient delivery windows are certainly at the top of the list for many existing users.
Features

Convenient Delivery Windows that can be Scheduled in Advance

Fast and Effective User-Interface with Several Grocery Chains and Restaurants

List of Available Locations
The list of acceptable locations and regions for the Amazon Prime Now digital app will be listed within this section. This list continues to expand rapidly, but as of now, these locations are available.
Locations

Atlanta

Brooklyn

Charlotte

Chicago

Columbus

Dallas

Las Vegas

Los Angeles

Manhattan

Miami

Minneapolis

Nashville

Phoenix

Richmond

San Francisco

Virginia Beach

Washington

Conclusion
We're going to use the concluding portion of this review to go over some of the positives and negatives that are available with the Amazon Prime Now platform. We'll start by discussing some of the positive features that are extremely appealing to users.
Pros

Extremely Convenient Platform

Ultra-Fast and Accurate Deliveries

Outstanding User Feedback

Expanding List of Delivery Locations

There is no doubt that there are several positive aspects for this app, but there are also a few negatives that we need to discuss as well before we completely wrap up this review.
Cons

Not All Locations are Supported

There are a Few Glitches within the App

We have now covered just about everything that you need to know about the Amazon Prime Now digital app. You should consider installing it, especially if you are in one of the supported regions where deliveries can be scheduled and completed.