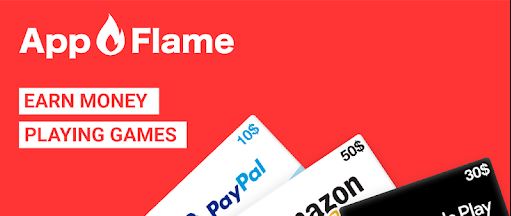 This App literally has their customer's best interests in mind is a mobile app called "App Flame." It is an app in which you can play and collect money, by playing a game. They don't have a lot of features for their app, but what they do have is unbelievable. The first feature we want to discuss is the fact that you can collect coins just by playing games. There are many coins that you can collect, and they can be exchanged for stuff in their payout store, which we'll get into a little later.
The App has a feature where you collect coins per minute. Not only do you collect coins per minute, but every time you hit the time mark, the coin prize increases. However, so does the time limit you have to get the coins. So you will earn per minute to start, and it goes up every time you hit the time limit. The next feature is the way to play the games. You don't have to play the games on the app. All you have to do is get the game from the app, and allow App Flame to track your gaming progress, and you will be collecting in no time.
App Flame: Play Games & Get Rewards
Price: Free
Category: Card
Version: Varies by device
Developer: App Flame Company

Uninstall the app:
1. Go to Settings menu
2. Choose Apps or Application manager
3. Touch the app you want to remove
4. Press Uninstall.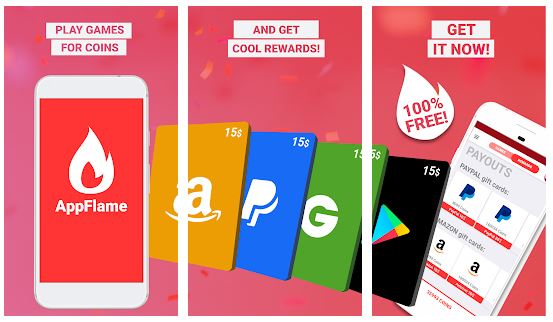 They have a wide selection, and it changes every week. Even though it changes every week, if you got a game, you can play it anytime to earn coins. When you are looking into the game, it tells you it's rating, as well as how many coins you can earn per minute playing the game. From there, you can make your decision as to which games you want to get on your mobile device. The next feature is the payout feature. You can collect money, get gift cards, and more. The prize payouts include PayPal, Amazon, the Playstation Store, BJ's eGift Card, Starbucks, Nike Digital, T.G.I. Fridays eGift cards, Walmart, Xbox, Google Play, and more. Prizes can range anywhere from $0.50 to upwards of $50 or $100 based on what you choose and what you want to redeem them too. Finally, the final feature would have to be the interface of the game. You have easy navigation to the apps that are featured with the app, as well as a display of the coins you get per minute and the ratings of each of those games. You have the quick payout menu there as well, and you can easily navigate to the screen to cash out your money. You will also be able to hit the menu button, and find the My apps button that allows you to stat track how much time you've played the game, how many more seconds you have until you collect coins, and how many coins you will collect. It also has a link to your own personal profile, and another button to get help, and find a call center that can help you address any and all of your needs.
It is an app that allows you to play all of the games that are popular or are asking for more players, and the more you play those games, the more rewards you'll get in the long run. There are so many apps to play and games to try, that you should at least get paid to try them out, and App Flame ensures that you get rewarded for trying out the games that you want to try or are willing to try for some cash. This app is one of the best apps for getting cash, as some other apps ask that you pay in or reach a certain dollar amount that you just simply can't get to. This app pays out lower because they know that you deserve some rewards for yourself. You can also access more than one payout per day and hit the maximum pay more than once.
There are a million reasons as to why you should install the game, but the main reason is that you get paid to play and test out games. You have a database that tells you how many coins you'll get for playing "x" amount of seconds. This app is one of a kind, and while there are others like it, it gives out the most rewards and is the most generous with their coins. It also has the best stat track to see where your need to get to in order to get more coins. What are you waiting for? Get the App Flame App Today!