With all the cutting games out there and the simulations for real-life cutting, there is one that has a great feel and looks. This cutting simulation app is called ASMR Slicing, and it is an immersive and fun experience. This is one of the best simulators on the app store and on google play, and you shouldn't sleep on how fun this game is. So, let's discuss what the features of the game are, how to play the game, and why you should get the mobile app version of this amazing cutting simulator.
ASMR Slicing
Price: Free
Category: Simulation
Version: Varies by device
Developer: ASMR Slicing Crazy Labs by TabTale

Uninstall the app:
1. Go to Settings menu
2. Choose Apps or Application manager
3. Touch the app you want to remove
4. Press Uninstall.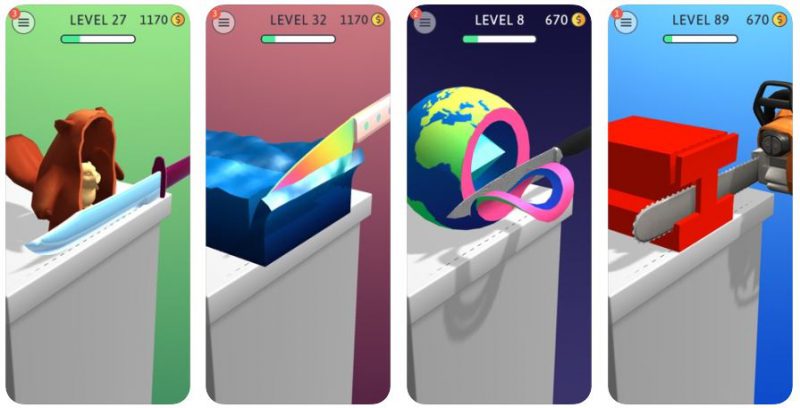 With so many great new cutting-edge simulation features, we'll discuss the top four here. In no particular order, we're going to start with the sounds and the sound effects. They have soothing sounds in the between menus and the soothing and realistic sounds of knives cutting through the sand, butter, and other sounds you can think of can be heard in-game. Sounds are half the game, and to have awesome sounds effects and soothing music between screen sounds is just one of the reasons it's one of the best cutting simulators on the app stores.
Another great feature is the vast amount of objects that you have at your disposal. There are so many items to cut through. Different objects, shapes, and more that you can cut through with your knife. Ever imagine cutting through a stereo or a mattress or maybe something else? Well, then this is the cutting simulator for you. You can cut through a tumultuous amount of items and shapes such as rectangles, squares, circles, triangles, polygons, and more. So if you're looking for a wide range of items, objects, and shapes to cut through, then this is the cutting simulator app for you.
The next feature for the game and cutting simulator is the smooth haptic feedback, or in normal terms, smooth haptics. This is a feature that allows the player to feel the vibrations of the game, basically making it feel like you're holding the knife, and you can feel the object under your slicing. This is one of the best haptics out there, and it actually feels like you are holding the knife. Realistic and full of fun, you'll be playing for hours, and wondering how it got to be so late, when you just sat there, and literally cut virtual objects, and none of them are real.
The final feature that we'll discuss today is the realistic kinetic sand slicing and cutting simulator. This is so realistic in the look and feels that it makes you feel like you're actually holding the knife, and it looks and feels like you're cutting straight through the objects of you're desire. There's nothing on the market like it right now, and maybe in a few years, there will be a replica of the game, but there is nothing like playing the game and feeling like there is a knife in your hands. This feature is one of the best, because you have the sound, feel, and look of cutting through objects, and it's one of a kind for now.
How to Play the Game
There are many ways to play, but you have to play through the story part of it first, and before you say how do you write a story for cutting knives, there isn't a script, it's mainly a level story. Basically, you play the first level, with the first object, and you can cut through that, and when that object is cut up enough, you'll progress to the next object, and so on and so forth. There are many ways to play the game, and there's no right or wrong way to play the game so long as you have fun while playing the game.
Why Should you Install the Game to Your Phone or Device?
You should get this app and game because it is a real experience, chalked full of fun, entertainment, and hours of challenging cutting simulations. This is one of the games that make you feel like you're in the game and playing it with your bare hands and not wit ha phone. There are so many ways to play the game that your head will spin. There is no reason to not at least try the app, download it to your phone, and play a few rounds of the game before you decide to keep it or not. The game is free, so why not try to play it, and see if it's something that you like before you cast it aside. Everyone gets angry and wants to destroy stuff, and this game allows you to capitalize on those feelings in a safe and controlled environment, so what are you waiting for, get the mobile app today!