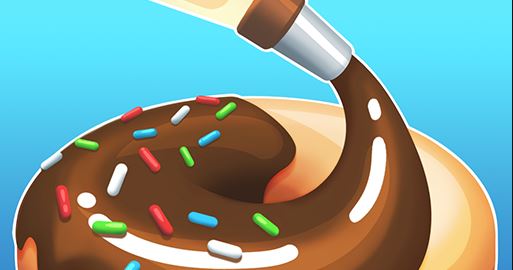 Prepare to live out your fanciest baking dreams with this adorably addictive mobile app, Bake It! Players enter their own personal bakery, where they create and decorate beautiful cakes and cookies for incoming customers and the store's display cases. As more bakes are completed to the customer's satisfaction, further tools, decorations, and recipes are unlocked. With five different areas to customize and endless styles, every bake in the game is truly unique. Players, now serving as bakers, make their one-of-a-kind luxurious desserts by choosing the tray shape, glaze color and sheen, icing color and pattern, fruit and candy toppings, and best of all sprinkles!
Bake it
Price: Free
Category: Casual
Version: Varies by device
Developer: Kwalee Ltd

Uninstall the app:
1. Go to Settings menu
2. Choose Apps or Application manager
3. Touch the app you want to remove
4. Press Uninstall.
Game Dynamics: Running Your Very Own Bakery
The game features two main baking scenarios. In the first, players must bake an exact order specified by the current customer. Already knowing what they want, customers will detail their shape, glaze, icing, topping, and sprinkle preferences to you. There are two potential difficulties with that: icing pattern and locked choices. The icing pattern may be a straight line, which is easy enough to pull off. However, soon into the game customers will start requesting swirls, spirals, and shapes, which test your cake decorating skills! Also, in your bakery's beginnings, not everything will be unlocked. We'll talk more about that later! For now, consider that sometimes customers will want something, you might not be able to offer. In those cases, you must find a good substitute!
The other baking scenario is a quasi-free play, where players get to bake whatever their heart's desire to display in the bakery. The same categories, like shape and glaze, get to be played around with. It's a great way to practice your skills and test out recently unlocked items!
The Bakery: Rewards and Upgrades
As mentioned previously, not everything will be available at the first bake. For instance, there will only be round and square tray shapes. Easily the best part of the game is unlocking new decorations and recipes like the dog-shaped cookie! Let's see how they can be unlocked and other baking rewards.
Each bake, including those for customers and the display cases, go towards upgrading the bakery, which in turn unlocks various features and items. In the beginning, a new set of unlocked items is released every two or three bakes. Pretty quickly though, it takes a significant number of bakes to unlock the high ticket items.
Also rewarded with each bake is in-game money. The bakery may be further upgraded by investing money in various areas. Some of the things received this way include plant decorations for the storefront and new recipes.
Of course, the most important reward is the smiling face of the customer. Seriously, if they like the bake, the game vibrates and smiling emojis go all over the screen. Players will feel appreciated if they meet the customer's expectations. Now, their satisfaction is based on the classic three-star system. Each customer bake will be ranked from one-star, bad, to three-star, excellent, based on the player's ability to stick to customer requests, like glaze color preference and icing shape detail.
Baking: The Fun Four-Step Process
The baking process in the game is quite enjoyable. Players must first pick out the appropriate tray shape and fill it with batter. Though this area is hard to make mistakes in, bakers must be careful to not under or overfill the pan and that the batter is level. Then, it's popped into the oven to bake with a cute graphic.
Once baked, the serious process of decorating begins. To add a glaze, players pour a cup of it over their bake, ensuring full and even coverage. Only one of these can be added to a dessert. Next comes the difficult icing. In addition to choosing the correct color, players must follow a detailed pattern. The game will put a dotted line to guide players, but it can be a little challenging early on. Finally, bakers get to add the sprinkles and toppings. More than one of these may be added to any bake.
Then, the bake either goes to a hopefully happy customer or rests in the display window.
Tools of the Trade: Decorating Options
Saving the best for last, here are the options for each decorating category available early in the game:
1. Tray Shape - square and round. Star and oval may be unlocked within the first two upgrades.
2. Glazes - chocolate, pink strawberry, red cherry, dark chocolate, rainbow mirror, pink swirl, yellow swirl, and chocolate swirl.
3. Icing - several solid colors and similar patters as seen in the glazes. Note: there are three thicknesses available.
4. Toppings - glazed fruit, cherry, chocolate kisses, and multicolored candies.
5. Sprinkles - many colors of the traditional kind, hearts, and several in the later upgrades.
Final Thoughts
Bake It gives players a chance to run their very own bakery and design unique desserts. Download and install it on your mobile device to see what you'll cook up!