Are you a huge music fan wondering if your favorite artists are coming to your town? Music discovery in the age of Facebook has gotten more manageable, but Bandsintown makes it more local than ever.
This app sends email and phone notifications to fans, so they never miss a show. For bands, it makes keeping gig information easy to update between both their website and Facebook. It is one of the top apps of summer 2020 for music discovery – here's why.
Bandsintown Concerts
Price: Free
Category: Music & Audio, Popular Now
Version: Varies by device
Developer: Bandsintown

Uninstall the app:
1. Go to Settings menu
2. Choose Apps or Application manager
3. Touch the app you want to remove
4. Press Uninstall.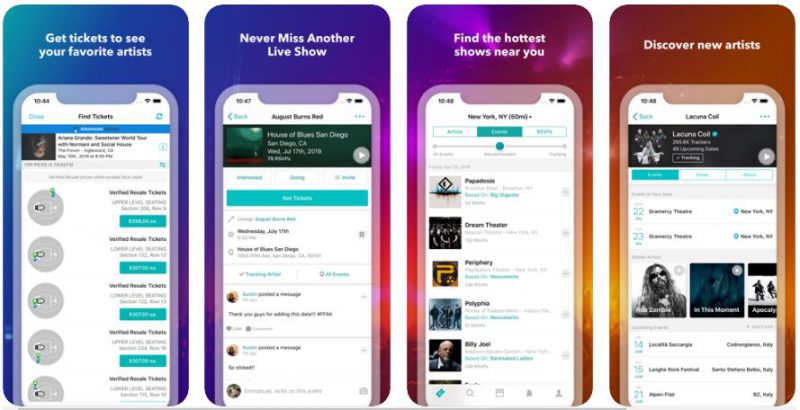 Bandsintown is a music discovery app that helps fans discover live concerts of their favorite bands. It is available on Facebook, iOS, and Android. Fans can track artists and receive emails or smartphone notifications of their favorite bands. They can also opt to receive notifications about similar groups, helping bands connect with new fans through organic discovery.
The app has over 19 million registered users and is available in 210 countries. Bandsintown is one of the best mobile apps to drive local music discovery, because it is a valuable tool for musicians and artists, too.
Bandsintown Manager gives artists ultimate control over how their concert is promoted on the platform. That platform allows artists to connect with fans, share updates to venue information, and increases social engagement with fans. The suite of marketing tools included in Bandsintown Manager make it possible to manage a full tour.
Artists and musicians can share full tour dates, promote their upcoming events, and directly contact fans. Tour dates loaded into the app that is connected with a Facebook Page will automatically update. It allows bands and music acts to keep their website and Facebook information in sync – leading to better promotion.
The service is used by several famous artists, including Wiz Lorde, DJ Steve Aoki, Maroon 5, and Wiz Khalifa. It helps drive traffic to ticketing websites to keep music fans engaged with their favorite artists. It powers social management for 70% of the top 100 DJs in DJ Magazine.
Fans who use the app are some of the most engaged music fans on the planet. Bandsintown users track 84 artists on average, showcasing how important music is to those who use the app.
Bandistown Features
* Stay up-to-date with your favorite artists
* Receive emails or notifications about your favorite bands
* Artists and musicians can connect with fans directly
* Keeps website and Facebook touring information synced
* Follow artists like Eminem, Coldplay, and other famous acts
* Or follow your favorite dive-bar cover band with a Facebook page
Bandsintown Pros & Cons
Pros:
* Up-to-date touring information for thousands of artists
* See local venue information and buy tickets
* Connect with bands and musicians directly
* Scan music profiles for suggested artists to follow
* Virtual concerts streamed directly through the app
* 530,000 artists use the Bandsintown platform
Cons:
* App is a serious battery hog
* Some artists don't use the app
Should I download and install Bandsintown?
If you're a music fan who loves attending live events in your area, Bandsintown helps you track your favorite artists. Instead of following them on social media and missing the information, Bandsintown puts tour info and upcoming shows front and center.
It allows users to scan their personal music profiles to recommend artists to follow. Bandsintown sends alerts for upcoming events to fans who have favorited artists on the platform. It's one of the most engaging tools musicians have to keep their fans engaged. Famous big names use it to manage their social media engagement, but any music act with a Facebook page will find it a valuable tool in social tour management.