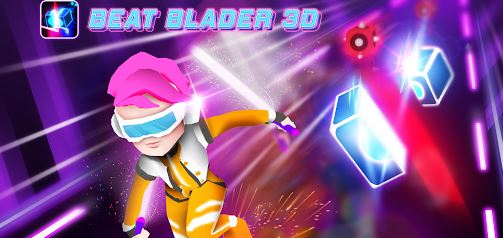 Beat Blader 3D: Dash and Slash is an impressively engaging rhythm game that includes exciting slashing action as you listen to your favorite songs. Choose the music you'd like to play along to and try your best to avoid obstacles while slashing your way through colorful blocks. Although a simple game, Beat Blader 3D: Dash and Slash has several features that make the game one of the best stress-relieving forms of entertainment you can find for your mobile device.
Beat Blader 3D: Dash and Slash!
Price: Free
Category: None
Version: Varies by device
Developer: Amanotes Pte. Ltd.

Uninstall the app:
1. Go to Settings menu
2. Choose Apps or Application manager
3. Touch the app you want to remove
4. Press Uninstall.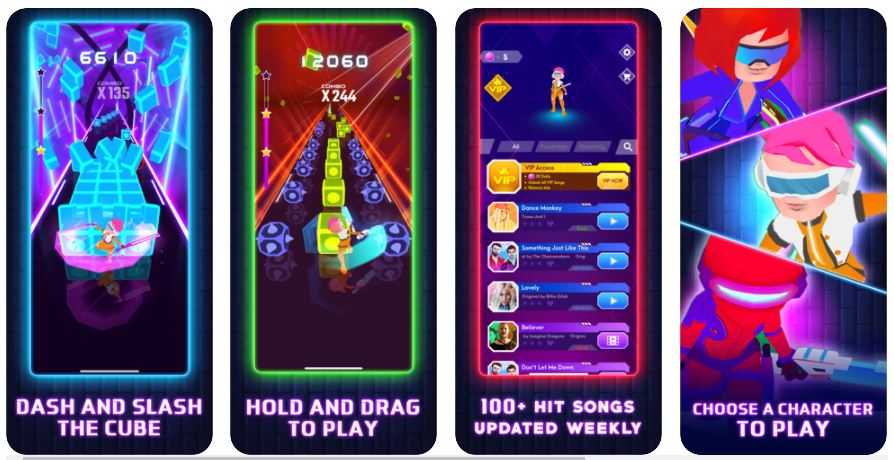 Navigate with Ease
One of the most significant features of this game is the simple swiping mechanics. All you have to do to move your character along their musical path is to swipe your finger in the direction you want them to slide.
As you blast through colorful cubes, a rhythmic beat is created that perfectly syncs with the song you've chosen, making this one of the most satisfying musical games in the play store.
Graphics Galore
Unlike many other slash and dash titles in the mobile gaming market, Beat Blader 3D: Dash and Slash offer colorful 3D graphics that seem to pop off the screen as you dash through each musical level. From young gamers to seasoned players, this title keeps you engaged and entertained with its fast-paced levels and stunning visuals.
Seemingly Endless Song List
The list of songs to choose from is probably the most impressive thing about this mobile game. Beat Blader 3D: Dash and Slash has a lengthy list of songs that includes genres like classical, pop, EDM, hip-hop, and much more.
Not only do many of these songs feature the actual artists, but you'll never get bored with your options because the developers curate a fresh playlist every week with new music in multiple genres.
Customize Your Experience
Although the game doesn't have an extensive amount of customization features, you can change your character between two brightly colored ninja-like avatars as well as the slashing weapons they carry for breaking blocks.
Each character and weapon is created in the same stunning 3D graphics to give you the ultimate immersive experience when dashing and slashing through levels.
Search for Your Favorites
Rather than scrolling through the seemingly endless list of music, the developers thoughtfully appointed a search bar at the top of the list so that you can find your favorite music with ease. Search by artist or song title to quickly and efficiently move on from one song to the next.
Improve Your Cognitive Skills
Not only can you enjoy some of your favorite music by playing Beat Blader 3D: Dash and Slash, but focusing on the stream of obstacles and cubes can significantly improve your cognitive skills with everyday tasks.
Keeping a watchful eye on the motion of the blocks while swiping your finger carefully to avoid the obstacles is an excellent way to boost cognitive functions while enjoying the excitement of a game.
The Pros of Beat Blader 3D: Dash and Slash
Countless mobile games force players to watch agonizingly long ads between each level, but the developers of Beat Blader 3D: Dash and Slash have made it easy for gamers to stay engaged while making revenue with ads.
Not only do they ensure you're able to skip an ad after only a few seconds of watching, but you only have to suffer through a few seconds of advertising before getting back to your slashing fun.
Though you have to watch ads to unlock many of the songs on the list in Beat Blader 3D: Dash and Slash, you will only have to view them one time to play. Once you've unlocked a song title by viewing the ad, you'll never have to do so again. As soon as you have access to a title, you can select it anytime to dive right into dashing and slashing fun!
Another pro worth mentioning about this engaging rhythm game is how forgiving it is when you accidentally dash into an obstacle. If you should hit a barrier on the course, an option will appear to watch a brief advertisement to continue playing the song.
The Cons of Beat Blader 3D: Dash and Slash
While there are many fantastic features of this game, there are a few things that we would tweak about Beat Blader 3D: Dash and Slash. Firstly, although the swiping mechanism to move your character is smooth and fluid, it can sometimes be so sensitive that your avatar over-corrects and slams into an obstacle rather than the cube you were aiming for.
A minor but all the same annoying factor of the song list is that most titles don't feature the actual artist. It's not a very significant flaw to the game, but it can minimize the song's enjoyment when you don't get to hear your favorite artists serenading you during the match.
Our last pet peeve about Beat Blader 3D: Dash and Slash is that you have to pay a hefty price if you want to remove ads from the game altogether. Though it's a nice option to have, paying a subscription for a mobile game isn't a reasonable request in these times of uncertainty.
Overall, Beat Blader 3D: Dash and Slash is an engaging rhythmic game that's sure to keep you entertained when there's nothing else to do. If nothing else, it's a great way to waste time and listen to your favorite songs while you decompress from a long day of work or classes.