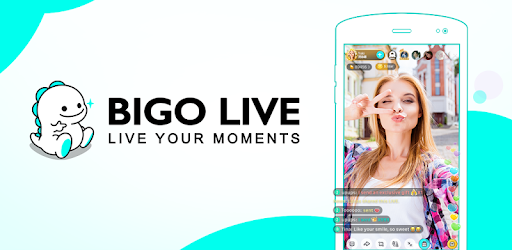 Seller BIGO Technology PTE. LTD. offers this versatile app in dozens of languages, including English, Indonesian, Hindi, Arabic, Portuguese, Malay, Korean, Japanese, Spanish, Russian, Turkish, Vietnamese, and more. This social networking app used nearly 160 MB of space and needs iPod Touch, iPad, iPhone with an iOS 9.0 or newer system for full compatibility.
Users should note that there's an age requirement of 17 or older in place for the BIGO download app due to mature themes and content like violence and sexually mature information. The price is free but there are multiple in-app items for purchase ranging from $1 all the way up to nearly $100.
The creator notes that the BIGO app is intended for social network uses like live-streaming of video content. The most routine use of BIGO is for users who desire to stream unique incidents or moments, talk live with others, watch "hot" videos or simply place video-based calls online. With more than 200 million users all over the world, BIGO Live is one of the most popular apps in international use.
BIGO LIVE
Price: Free
Category: Entertainment, Social
Version: Varies by device
Developer: BIGO TECHNOLOGY PTE. LTD.

Uninstall the app:
1. Go to Settings menu
2. Choose Apps or Application manager
3. Touch the app you want to remove
4. Press Uninstall.
Details of BIGO Download App
Anyone who wants to create a vlog (video blog) and live-stream it to any number of people can do so with the BIGO download app. One of the key functions of the app is that it helps users monetize their content in a number of ways. You can obtain lengthy or short comments from all, or select, viewers. You can even search for people in your local area who are viewing your video content and interact with them. Some platforms rate the app as appropriate for teens but in reality it's designed for people 17 and older, which excludes younger teenagers.
The most common way people use the app is to post their video or vlog content on social media sites like Twitter, Facebook and the Eastern European favorite, Vkontakt. In order to recharge in-app "currency," users will need to spend up to $90, even after the free download. It's also important for people to know that every user is listed by name, location, age and gender and that very much of what is posted via BIGO can be called "adult content." That means users should be ready for nudity, various levels of violence and every possible type of language, from mild conversation to profane.
It's easy to sign up for the app via Google or a Facebook account, after which you can either upload your own content or view what others have posted. The most typical search modes that people use with the BIGO app is "nearby, new, or popular." While much of the content can be called adult-themed, many users are aspiring singers, dancers and comedians who want to get their talent seen by as many people as possible. There's also a huge community of gamers using the app, which has been available since early 2016.
Note that the app is free to download and use but there are available in-app purchases depending on a person's level of use and preferences.