Block! Hexa Puzzle

Advertisement






Sometimes, games with the simplest ideas and gameplay mechanics are the most fun to play. Case and point: Block! Hexa Puzzle. This mobile app game puts your puzzle skills to the test. While the premise might be simple, which involves nothing more than fitting hexagonal pieces into a grid, the execution and mind-bending puzzles will keep you coming back for more.
The best puzzle games are the ones that everyone can play. However, they should also be challenging enough that you don't get bored. Thankfully, Block! Hexa Puzzle walks this line perfectly.
The gameplay consists of trying to fit oddly shaped hexagonal pieces into preset grids. The goal is to use all of the pieces to completely fill up the frames. There are just enough pieces, but you'll have to use each piece correctly in order to achieve your goal.
Advertisement
Block! Hexa Puzzle
Price: Free
Category: Puzzle
Version: Varies by device
Developer: BitMango

Uninstall the app:
1. Go to Settings menu;
2. Choose Apps or Application manager;
3. Touch the app you want to remove;
4. Press Uninstall.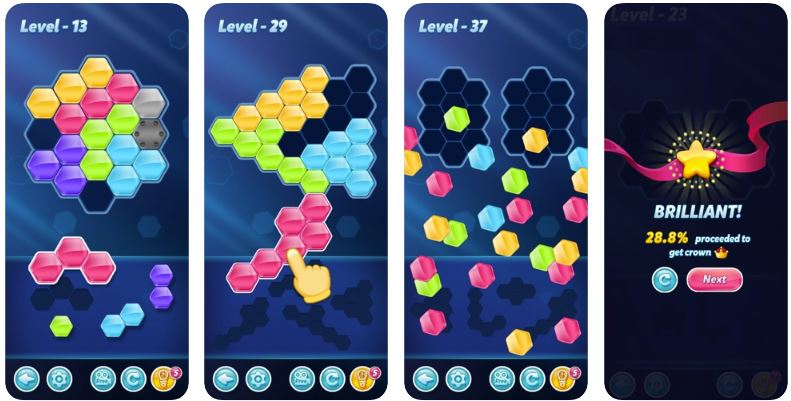 The gameplay starts easy enough that most people probably have little trouble completing the first handful of puzzles. As you progress, the puzzles become more challenging. You'll have to put your puzzle-solving skills to the test in order to continue playing.
Easy Controls to Master
Arranging the blocks to fit in the given frames is easy thanks to the simple controls. All you have to do is drag and drop the hexagonal pieces where you want them. If the piece doesn't fit, you can drag it off the grid and return it to your collection of pieces. These controls are easy enough for people of all ages to understand.
While playing the game, you're free to rotate the puzzle pieces as you see fit. Best of all, there's no time limit. You can take as much or as little time as you need to solve each puzzle. This takes away the stress and anxiety that other puzzle games typically cause.
Thousands of Stages
Once you download Block! Hexa Puzzle, you'll be busy for a long time. There are literally thousands of unique levels that you can play. Special quests add even more variety to the gameplay. Also, you can earn rewards for playing every day.
Option to Remove Ads
Block! Hexa Puzzle is completely free to play. However, it's an ad-supported game, so you'll see ads in between levels. In general, the ads aren't overly annoying and are a small price to pay for the game being free.
If you want to remove the ads, you can make an in-app purchase to do so. In addition, the in-game store lets you buy hints if you're having trouble solving certain puzzles.
Give Block! Hexa Puzzle a Try
Block! Hexa Puzzle is free to install, so why not give it a try? The simple yet challenging gameplay is perfect for people of all ages. It's the perfect brain teaser that you can carry in your pocket. The game saves automatically, so it's a great way to kill some time without worrying about losing your progress. While the game contains ads, there doesn't seem to be too many of them. If you're into puzzle games, you should give Block! Hexa Puzzle a test run
AllTheApps.org is not an authorized representative or the developer of this application. The trademarks and copyrighted materials within this site belong to their respective owners and developers. We strive to provide our readers with informative reviews, tips and links to the particular app store to where they can acquire or purchase the application.