The Boss Revolution Mobile app is one of the best ways to send and receive money internationally. The new app allows users to send money transfers, buy mobile airtime, and send gift cards to family and friends. Users can send money from the United States to more than 49 countries worldwide from any iOS or Android device.
Boss Revolution is so confident you'll like the service they provide that they're offering the first transfer free. Users can initiate the first money transaction up to $300 and pay absolutely no fees. A competitive foreign exchange rate and low transfer fees make the Boss Revolution Mobile app extremely attractive for money transfers.

Boss Revolution
Price: Free
Category: Finance
Version: Varies by device
Developer: Boss Revolution

Uninstall the app:
1. Go to Settings menu
2. Choose Apps or Application manager
3. Touch the app you want to remove
4. Press Uninstall.
Boss Revolution Mobile App Features
First transfer is free up to $300
Low fees starting at $3.99 with a debit card
Competitive foreign exchange rates
Over 300,000 payout points to choose from
Make a free international call after sending funds
Receive text and email alerts on the transaction status
Top-up prepaid mobile phones in 70 countries
Send electronic gift cards for major retail brands
Should I Download Boss Revolution App?
The free mobile Boss Revolution app is great for anyone living in the United States with family in another country. The app makes it easy to send them funds using a US debit card, with low transaction fees. The app provides up-to-date information on the transaction progress, so you never wonder when the money will arrive. Senders can receive free text and email alerts about the status of transactions along the way.
The app also makes it easy to recharge prepaid mobile phones in 70 countries. Users can do this by entering the recipient's phone number and the amount to add to the number. Electronic gift cards can be sent using the app, too. It's a great way to say thank you or give a gift to friends and family back home.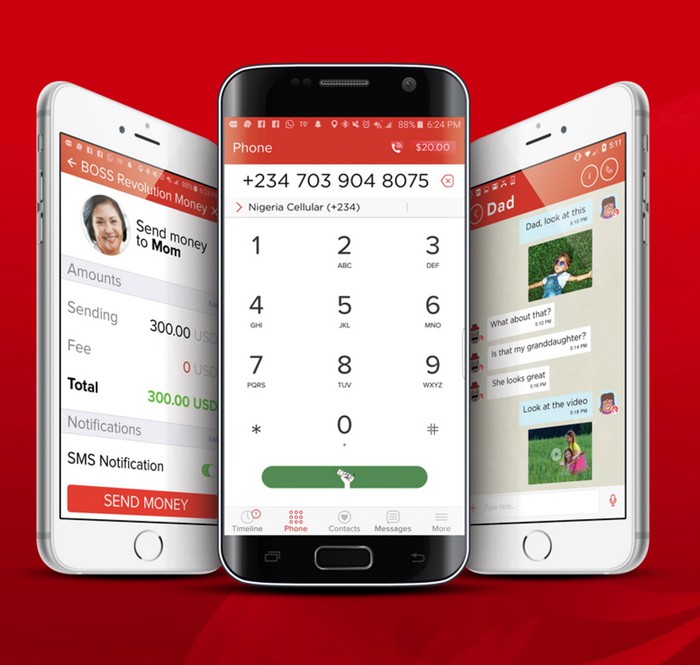 Boss Revolution App Availability
Download Boss Revolution app on both iOS and Android devices. The Boss Revolution Money app is a sister app for the Boss Revolution Calling app. Both apps are available for free from Google Play and iTunes.
The IDT Corporation backs both ventures. The IDT Payment Service powers the international money transfer service provided in the app. IDT operates as a leading global carrier of international long distance calls. The company has been working towards uniting payment solutions with international calls.