Do you like brainteasers? Do you wish you could play them on your phone? If so, the Brain Out mobile app might be the game for you. It allows you to test your IQ with a variety of unique puzzles and tricky riddles. It's important to remember that Brain Out is a game first and an IQ tester second. As a result, the puzzles and riddles that you answer are tricky or odd. If you want an app that accurately tests your IQ level, Brain Out isn't for you. If you want a fun game to test your creativity, accuracy and memory, then you'll have a fun time with Brain Out.
In most cases, you can't answer the questions in ordinary ways. The app tries to trick you and won't provide clues on how to interact with the brainteasers. For example, there's a test that asks you to put an animal in a refrigerator. When you try to drag and drop the animal into the refrigerator, it's apparent that the animal is too big. First, you have to increase the size of the refrigerator like you're zooming in. Tricky puzzles and riddles like this are what you can expect from Brain Out.
Brain Out – Can you pass it?
Price: Free
Category: Education, Popular Now
Version: Varies by device
Developer: Focus apps

Uninstall the app:
1. Go to Settings menu
2. Choose Apps or Application manager
3. Touch the app you want to remove
4. Press Uninstall.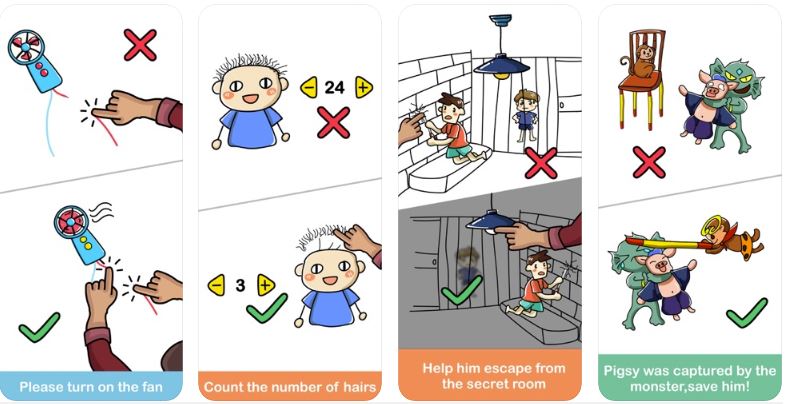 Humorous Gameplay
Brain Out promises to offer humorous gameplay. For the most part, it delivers. All of the puzzles are witty and deserving of a good chuckle. Also, each one plays funny sounds as you try to solve it. This creates a unique type of gameplay that you don't get from most brainteaser games.
Of course, the humorous gameplay isn't the only aspect that makes Brain Out so great. Another thing is the sheer number of puzzles available for you to try. Because of all the puzzles, you may never need to download other brainteaser apps.
Free to Play
With so many puzzles, you would think that Brain Out is an expensive game. Actually, it's completely free to play. However, it has in-game advertisements that you have to deal with in between puzzles. Of course, watching these short ads is a small price to pay to get access to almost unlimited brainteasers.
It's worth pointing out that, during testing, I ran into a few ads that were hard to close. Obviously, the ads are like this on purpose. Marketers want you to view their advertisements for as long as possible or click on them by accident. After some trial and error, though, you'll get the hang of it.
As with most games of this nature, you can buy a pro version of Brain Out. Doing so turns off the in-game ads. It might be worth upgrading to the pro version if you think that the ads are too annoying. During testing, I never felt the ads overstayed their welcome.
Give Your Brain a Workout
Are you ready to give your brain a workout? Install Brain Out today. This completely free game provides fun brainteasers. You can even face off against your friends to see who can reach the highest IQ level.