The Calm app is marketed by Calm.com, Inc. and will use slightly over 155 MB of space. This health and fitness app needs Apple TV, iPod Touch, iPad, iPhone or iOS 10.0 or more recent for full compatibility and can be used in four languages: Spanish, English, French and German. The price is listed as free but that's actually just for the 7-day trial. After that, for the Calm download you'll be required to purchase a premium membership.
The app was designed for people who want to meditate and who have no experience or a long background in meditating. The creators wanted to make the app a good choice for people of all ages, from 3 to 100, who need to put more calmness into their lives. For most users, that means traditional meditation sessions or sleep-inducing strategies. The standard subscription price is $12.99 monthly and $59.99 billed annually. If you do the free trial, be sure to cancel before the free period is over or you'll be automatically billed for a full year of use!

Calm
Price: Free
Category: Health & Fitness
Version: 4.10
Developer: Calm.com, Inc.

Uninstall the app:
1. Go to Settings menu
2. Choose Apps or Application manager
3. Touch the app you want to remove
4. Press Uninstall.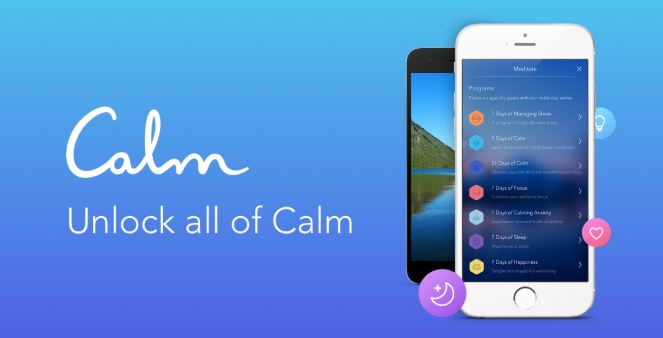 You'll need to create your profile when you download Calm's free trial. After that, simply tap or click "meditate" and you'll see all the choices for both guided and non-guided sessions. When you've decided on your preferred session, click "start session" and begin relaxing. When you pick music, there are multiple instrumental selections based on individual preference. If you merely want to go to sleep, opt for the stories that you want to hear. Also, choose from more than two dozen nature scenes that are accompanied by soothing sounds. Like so many other apps, you can save all your usage data and share it with friends on social media.
Details for Calm Download
Sellers describe the Calm app as a meditation-based method for deep relaxation. Part of that strategy employs various sounds, images from nature, bedtime stories, guided meditation sessions and anti-anxiety talk. Users can choose their favorite topics from popular selections like gratitude, forgiveness, anti-anxiety, relaxing sleep and others. Each topic runs from just a couple of minutes up to nearly a half-hour.
One of the main features of the app is its "Calm Kids" category, where children can learn all about how to gain emotional composure via techniques like loving-kindness and special kinds of breathing. In the kids' section of the app is also a bedtime stores category appropriate for children age three and up.
Before doing the Calm download, adults should be ready to help young children choose categories and learn how to do the exercises related to breathing and sitting still. Every user can set the app's built-in reminder to keep close track of how many total minutes of meditation they have completed.
Overall, the Calm app receives positive reviews for effectiveness and ease-of-use but there have been a few issues with customer service, or a lack of it, that include over-billing, no support and more. Some parents have trouble contacting anyone to help them when they have issues with downloads or credit card charges.