Some people are fans of a specific sport, while others just like sports in general. For those who want to keep up with them all, the CBS Sports App is a great choice. However, how does the CBS Sports App stack up against other sports-related apps?
The CBS Sports App is an official app released by CBS. It condenses all of the information that's on the CBS Sports website into a convenient and easy-to-navigate mobile app.
CBS Sports
Price: Free
Category: Popular Now, Sports
Version: Varies by device
Developer: CBS Interactive, Inc.

Uninstall the app:
1. Go to Settings menu
2. Choose Apps or Application manager
3. Touch the app you want to remove
4. Press Uninstall.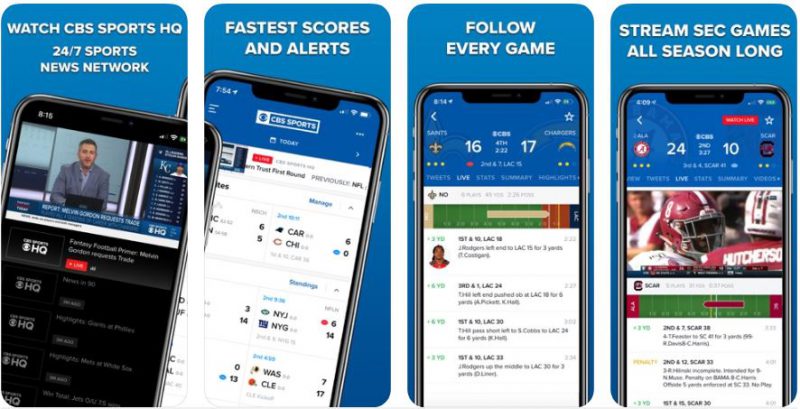 The first thing that I noticed about the CBS Sports App is how many sports that it covers. It keeps you updated on everything from the NFL to golf. Do you want to get all of your MLB and WNBA news in one place? The CBS Sports App has you covered.
In reality, this wide range of sports coverage makes the CBS Sports App appealing. It replaces many of my other sports apps because I no longer need an app for each sport.
What kind of coverage does the CBS Sports App provide? In general, it has basic coverage such as scores, news and highlights. The information isn't always as in-depth as dedicated apps, but it covers enough for the average sports fan.
For instance, you'll find more in-depth coverage of the NFL with the official NFL app. Despite that, you can still get the biggest news and game scores using the CBS Sports App.
Another cool feature is the ability to personalize your experience. Since the app covers so many teams and sports, the amount of information can become overwhelming. Also, you might not care about every sport or team. Thankfully, the CBS Sports App allows you to customize your experience to put the news that you care about front and center.
In addition, two features that I found myself using more than others were the live radio and podcasts. You can catch up on your favorite CBS Sports podcasts at any time. You can even watch live sports games when you log in to your cable or satellite provider. If you don't have cable or satellite service, though, you can't use this feature.
I wish that I could say that this app is perfect. However, I experienced a few crashes and freezes while using it. When watching live streams, there were a lot of hiccups and buffering problems. These issues occurred less when I connected to Wi-Fi, but you might be unable to watch games if you don't have Wi-Fi access.
Once you download the CBS Sports App, you'll get your money's worth. After all, it's completely free to install. The app gives you access to the latest news about several sports and keeps you up to date on live scores. I really like the implantation of the podcasts and live radio as well. If you have a cable or satellite provider, you can watch live TV. However, you might run into buffering problems, which can be a real drag when you're watching a game. All in all, this is a decent app for anyone who wants to get all of their sports news in one place.