CDC – Centers For Disease Control and Prevention

Advertisement






With so many illnesses and diseases that get passed around every day, it's nice to find ways to receive health news. You can do so if you download the Centers for Disease Control and Prevention (CDC) mobile app. Will the CDC app keep you informed about important disease updates or are you better off just going to their website?
This is an app that gives tons of information on disease related news and updates. When you open the app, you immediately gain access to the homepage and the most recent updates and articles. The homepage gives you tons of articles and information about any new diseases or ways for you to fight against health problems.
Advertisement
CDC – Centers For Disease Control and Prevention
Price: Free
Category: Health & Fitness
Version: Varies by device
Developer: Centers For Disease Control and Prevention

Uninstall the app:
1. Go to Settings menu;
2. Choose Apps or Application manager;
3. Touch the app you want to remove;
4. Press Uninstall.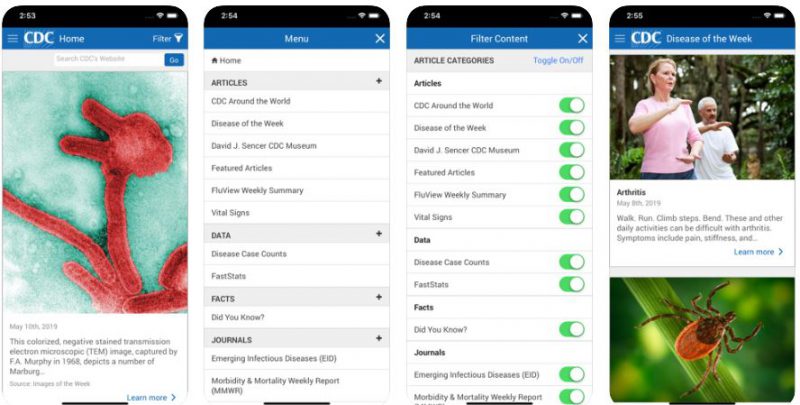 As you come across information or articles that you want to know about, you can click on "Learn More" to access it. From here, you can read about it and also click on other links and buttons to find out other related information. In short, this app allows you to easily access different articles about disease and health.
Key Features
While you can scroll through the homepage to look at the most recent articles, you also have different menu options. This menu gives you access to multiple categories. Here are the five biggest ones you should pay attention to.
Articles.

Data.

Facts.

Journals.

Videos.
By going through the menu, you can access whatever information you want and choose your preferred way of receiving information. That way, even if you don't have headphones to watch videos, you can still look through journals or analyze data on the app. This way, you can keep yourself informed about diseases and prevention in multiple ways.
Major Benefits
This app takes things a step further by allowing you to access this information in the way that you want. Sure, you can read articles or look at the news, but you can also look at disease data yourself and form your own opinions. This way, you can always get your updates and important information through the method that works best for you.
While you can view this information on their website, you can make things simpler through the app. This app was designed specifically to display that information on phones, so you can make sure that it looks nice and will display correctly on your device. This allows you to look at the updates anywhere that you want.
Other Highlights
The website also allows you to search for specific articles and information. You can click on the search bar, search up the word "flu" and see what information CDC has available on their site. To further help with finding the information that you want, you can use the filter to remove any content that you don't care about.
It's also nice to mention the state that you live in so that you can receive notifications on health related news. You can also go into the Audio section and listen to a podcast. Even if you can't listen to it, you can read through the transcript. This app provides tons of content and ways to get information.
Conclusion
CDC allows you to easily access information about diseases and other issues going on in the health world. You can use it to access important information and to stay up-to-date on facts that will help you to prevent sickness. Try and install the app today so that you can try it out and get the information that you want from CDC.
AllTheApps.org is not an authorized representative or the developer of this application. The trademarks and copyrighted materials within this site belong to their respective owners and developers. We strive to provide our readers with informative reviews, tips and links to the particular app store to where they can acquire or purchase the application.