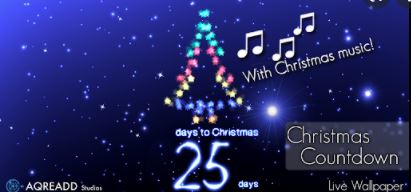 When it comes to holiday apps, few capture the spirit as well as Christmas Countdown with Carols. This app currently has over 70,000 reviews, and almost all of them are positive due to the interactive nature of the app, and how it gets them excited for Christmas.
Christmas Countdown with Carols is exactly what the name implies: a fun Christmas countdown app with holiday-themed graphics and the ability to play Christmas carols. It's easy to use and comes with many options that allow you to fully customize the app to your liking.
Christmas Countdown with Carols
Price: Free
Category: Personalization
Version: Varies by device
Developer: Aqreadd Studios

Uninstall the app:
1. Go to Settings menu
2. Choose Apps or Application manager
3. Touch the app you want to remove
4. Press Uninstall.
Features and Benefits
The Christmas Countdown with Carols app has a lot to offer in the way of features and benefits. Firstly it has an attractive and fun snowflake mode. If you get the premium version of the app, it also has eight different trees to choose from. The graphics are in 3D, so you can rotate the camera view using your finger. There is also a day/night mode, and you can set the camera angle however you want. On top of this, you can switch between countdown mode and clock mode with a touch, as well as customize the color of the lights.
A big part of the Christmas Countdown with Carols app is the music, which is also easy to use. Simply tap the app twice to play or stop a Christmas carol, and give it a double-tap to change songs. Other options include being able to disable the countdown to see only the tree, and the ability to set a New Year's Day countdown with a special New Year's Live wallpaper.
Pros
Highly customizable
Great music
Super easy to use
Can also be a New Year's Day countdown
Rotatable camera view
Diamond texture for countdown
Choose from 8 different trees with Premium
Switch between countdown and clock
Cons
Can only be home screen or lock screen
Free version has ads
Doesn't count minutes and seconds
Free version has less options than Premium
Conclusion
The Christmas Countdown with Carols is a great app if you're looking to get into the holiday spirit. It's a combination of cheerful graphics and familiar Christmas carols that you can activate with a simple tap make it a great way to enjoy some holiday cheer as you count down to Christmas or New Year's Day. While the app has many customizable features, the fact that it can only be set to the home screen or the lock screen may turn some people off. Some people also find the ads annoying, while others wish the app counted the minutes and seconds.
Even with these minor issues, the Christmas Countdown with Carols app is an excellent Christmas app overall. The basic version is free, but there is a premium version that has more features such as the ability to change the tree. Whether or not you decide to get the paid version is up to you, but there is no reason not to give the free version a try to see if this app is for you.