A single credit report offered for free each year is a good start. Credit Karma goes further with its assistance when compared to Equifax or TransUnion, however. Download Credit Karma for free to see your credit status and what you can do to improve it.
Credit Information With a Tap
Most adults know that even checking your credit comes with a price. The score actually goes down with a hard check. The Credit Karma mobile app, however, performs a soft check. These inquiries aren't recorded as "official" checks, which means that they don't take your score down by a few points.
Credit Karma
Price: Free
Category: Finance
Version: Varies by device
Developer: Credit Karma, Inc.

Uninstall the app:
1. Go to Settings menu
2. Choose Apps or Application manager
3. Touch the app you want to remove
4. Press Uninstall.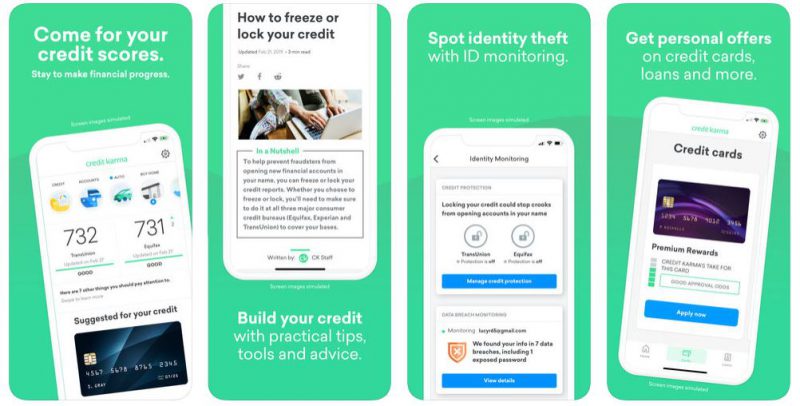 In fact, you can go onto the app each day to check the score if you desire. The activity has no impact on your creditworthiness.
Watch Your Credit Improve
You get much more than just a credit score when you download Credit Karma. The homepage is full of helpful graphs and charts. For people who thrive on visual cues, these aids are extremely helpful for credit improvements.
Watch the score ebb and flow with each passing billing period. You'll immediately know if an issue has negatively impacted your credit.
Play With Hypothetical Improvements
Your credit score is a combination of information derived from your spending habits. By changing one or two habits, you can improve your score. Use the app to see which changes make the greatest impact.
Close a credit card or increase the credit line on an existing account, for example. Look at how these actions impact the score on a hypothetical level. Apply this knowledge to your real accounts in the future.
Compare Your Spending With Others
It's not always clear when you're acting normally in the financial world. Holding a lot of debt or opening up several credit cards may be normal in your life but not so much in someone else's life.
Compare your spending with other people within the Credit Karma app. This information tells you if you're on track with the rest of society. The proper amount of debt is often a subjective concept.

Set up Notifications
The Credit Karma mobile app offers notifications so that you know when someone is using your credit. There could be a fraudulent charge or an unwanted creditor poking into your information. Take control of your finances with these notifications. You'll protect your credit and identity as a result. These inquiries and charges can go unnoticed otherwise.
Find Financial Products
You also have the option of examining some of the financial products that may have eluded you in the past. Auto and home loans that were out of reach before are now possible with your improved credit. Strive for an even better interest rate by looking at financial products that might work for you in the future. There's a lot of information in this one app alone.
Trying Credit Karma mobile app is the smartest way to take control of your financial world. Excellent credit sets you up for an improved lifestyle and additional opportunities. Open up your world so that applying for loans and credit cards is a breeze.