Signing up for Crypto.com has a lot of benefits if you're just starting out. This app is user-friendly for beginners and offers a metal Visa card with quality rewards. If you've been avoiding crypto because you're not comfortable with the volatility, this may be the right account for you.
Crypto.com – Buy Bitcoin Now
Price: Free
Category: Finance, Popular Now
Version: Varies by device
Developer: Crypto Technology Holdings Limited

Uninstall the app:
1. Go to Settings menu
2. Choose Apps or Application manager
3. Touch the app you want to remove
4. Press Uninstall.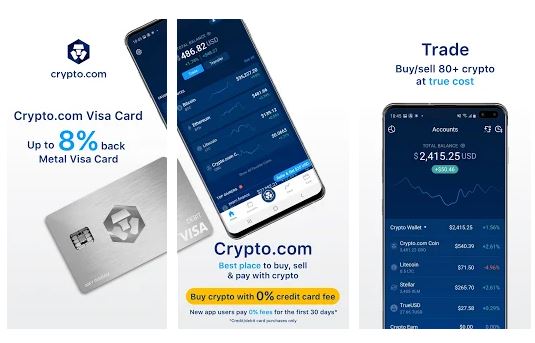 You won't be dealing with too much data from the more volatile edge of this highly profitable market. Your account comes with an online wallet where you can buy
Bitcoin
Ether
Litecoin
Stablecoins
directly from your bank or credit card. In addition to these known and fairly stable cryptos, you can track over 200 coins as you learn the ropes of crypto trading.
Taking Crypto on the Road
One of the big historical challenges with crypto has been turning it into fiat currency. Your Crypto.com account wipes out a lot of the steps and inherent hassles that come with this issue. You will receive a Crypto.com Visa card. This metal Visa offers many breaks on things you're already using and even allows no fee ATM withdrawals.
You can also get freebies and rebates, including
10% rewards on travel bookings
rebates for movie and music streaming services
up to 8% cash back rewards
easy access to multiple airport lounges
If you are interested in traveling on your crypto, setting up an account on this app and moving at least some coins to your Crypto.com wallet can reduce your spending, save you cash with rebates and rewards, and make it easy to get currency at your next destination.
Security: Rights and Requirements
While there are areas in the world of crypto trading that are completely unregulated, the activity of your Crypto.com account will require you to give up some information if you choose to get a Crypto.com Visa. In the United States, the Patriot Act will require you to provide your name, address, and other information to confirm that you are who you say you are.
Limitations
Of course, crypto is easier to trade and track than it is to spend, depending on where you go. However, your Crypto.com Visa can make accessing your currency much easier. If you have an app that allows you to spend crypto directly and the merchant is crypto friendly, you may be able to bypass your Crypto.com Visa.
That being said, traveling on crypto alone can be a feast or famine struggle. Areas that don't accept crypto, either because of governmental regulations and restrictions or because of a lack of internet access, will likely take your Visa as backed by the Metropolitan Commercial Bank.
Finally, it's a good idea to be prepared to pay ATM fees or to carry at least some fiat currency as you enter a new country. You may find a street fair, food cart or flower seller that can only take cash. Keep your options open and carry a backup method of payment.
The crypto markets are volatile by their nature. However, the investment options are lucrative if you've got some money to play with. Study up and track the coins visible in your wallet. Not everyone has the heart for large crypto investments, but you can turn a little money into a large payout if you have the courage and put in the homework. The app Crypto.com is a great way to learn.