It's always nice to find an app that will give you a good chuckle, especially if you like bad jokes and lame puns. The mobile app "Dad Jokes - A Collection of Puns & Corny Jokes" seeks to offer these various jokes to people around the world. Will Dad Jokes offer the puns that you want or should you stick to social media pages to get a laugh?
Dad Jokes is an app that does exactly what the title says: it gives you plenty of jokes that dads would find hilarious. This includes various puns, corny jokes and play-on-words that almost anyone will understand. This way, you can easily whip out the phone, look at some jokes and share them with others.
Dad Jokes – A Collection of Puns & Corny Jokes
Price: Free
Category: Casual
Version: Varies by device
Developer: Max Applications

Uninstall the app:
1. Go to Settings menu
2. Choose Apps or Application manager
3. Touch the app you want to remove
4. Press Uninstall.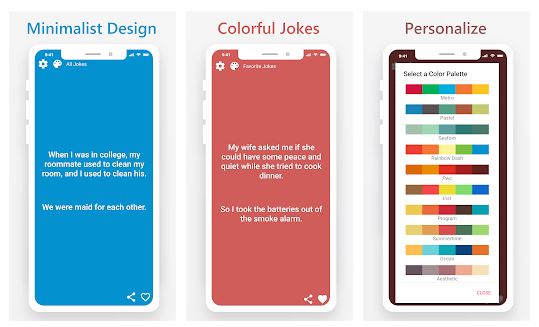 This app keeps things really simple, the approach it uses makes it work well. Instead of showing the whole joke, it starts by displaying the setup. After you read the set-up, you can tap the screen to display the punchline. From here, you can keep swiping across the screen to look at other jokes and return to ones that you like.
With this approach, you can easily look through the different jokes on the app and see if you can find any that you would want to learn.
How It Works
The app keeps things simple by having you swipe left to see new jokes and right to see the previous ones. At the top of the screen, you will have three different options to choose from.
All Jokes: Continue to swipe and see random jokes.

Favorite Jokes: Look at any of the jokes that you marked as your favorites.

My Jokes: View the different jokes that you have created on the app.
That's right, the app doesn't just give you jokes: it allows you to create your own ones. All you have to do is type in the set-up and punchline, then you can save the joke to your phone. After doing this, you can log into your Google Account and upload the dad joke for other people to see.
This means that this app will allow you to view dad jokes and share your own with others, which makes it worth the install for those who want to share their own jokes.
Benefits
This app is the perfect place for you to collect new dad jokes and share them with those around you. As you come across different jokes that you enjoy, you can easily mark them as one of your favorites and bust out your phone to share some dad jokes. Also, since you can save your own dad jokes, you won't have to worry about forgetting any that you think of.
You can also pull out your phone, open the app and look through it during your spare time. This way, if you get bored while going somewhere, or if you have a break during work, you can find some new dad jokes to add to your arsenal. This makes it a great app to pass time and pull out for a quick five minute laugh session.
Other Highlights
The app goes beyond sharing and creating jokes by adding other features that people will enjoy.
Change the color palette and pick one that you prefer.

Share jokes that you come across or create with your friends through text messages, emails and social media.

Turn off the tap-to-reveal feature if you don't want to use it.
The app makes it really easy to share, find and laugh at dad jokes that you come across. While the app does have ads and online only mode, you can purchase the Premium version to use it anywhere and without ads. It also allows you to share jokes without including a link to the app, so these features make it worth the $1.19 price point.
The app offers many highlights that make it stand out from other joke-based apps.
Conclusion
If you have some down time and you enjoy corny jokes, then you should download Dad Jokes. It will provide you with plenty of new jokes that you can share with your friends and bust out around those who enjoy similar puns. Make sure to download the app for yourself so you can have a great time as you learn some new dad jokes.