Are you ready to eat? If yes, then you can satisfy your cravings by ordering online your favorite food and having it delivered before you lose your appetite!
Do you feel hungry and are not willing to leave home to go eat something? Then, Door Dash is the answer!
Download the food delivery mobile app and install the best way to gain access to some tasty grub in less than an hour. The food is delivered right to your home or office from most participating restaurants via DoorDash.
DoorDash
Price: Free
Category: Food & Drink
Version: Varies by device
Developer: DoorDash

Uninstall the app:
1. Go to Settings menu
2. Choose Apps or Application manager
3. Touch the app you want to remove
4. Press Uninstall.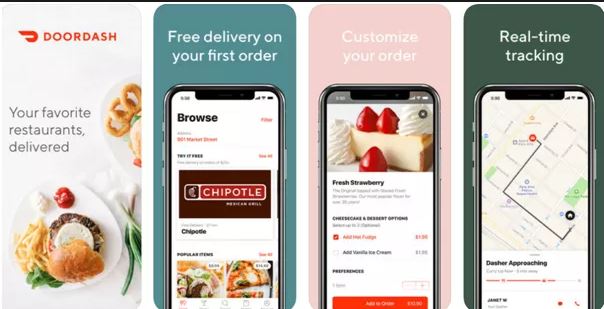 Different Era, Different Needs
Reaching out to the new generation, who are looked upon as elusive customers, is becoming easier. With delivery growing and people eating less outside due to time constraints, restaurants are looking up to DoorDash to help them grow and add to their profits.
Here is how:
-Almost 90% of Millennials use a delivery service at least once a week for their food.
-They are busy working late, exercising at odd hours, and writing a detailed report.
-Many are single or living with their friends or colleagues.
-They want convenience, and their overall needs are different from the other generations before them.
-9 to 5 workdays no longer work for them and that type of lifestyle has almost become a thing of the past.
-Because of their activities, their behavior has also changed, and so have their needs.
How does DoorDash work?
Regardless of whether you are a Millenial or not, if you have an iOS or and Android device, they have made your life easier, and you, their top priority. DoorDash provides excellent service to satisfy many of your cravings. They are listed on the register of numerous restaurants and will get your order to you when you need it. All you have to do is download and install the mobile app, sign up with them, log in, and you're ready to place your first order of delicious food.
Some restaurants are seeing fewer customers walk inside to sit and eat, but they are also quite excited by this new way of doing business. DoorDash has been helping many restaurants and small mom-and-pop locations get new customers. This has added to their client base in more than one way due to word of mouth.
Cost to the Customer
A standard delivery fee for a meal with DoorDash is usually $5.99. The highest you would have to pay is $8.00. In some cases, there is an agreement that DoorDash may have with the restaurant and during promotions, customers can get a discount for orders that are over $15.
Promotions that are offered by DoorDash such as Try Me Free and DashPass have introduced customers to new restaurants and that in turn has to lead to greater sales and opportunities for expansion. Restaurants are serving more and more consumers directly via the DoorDash app. The brand presence of many restaurants is also increasing daily thanks to the DoorDash delivery system.
DoorDash accommodates a new culture that has started to grow rapidly and this has created convenience and comfort for all!