When we talk about great and efficient browsers then Firefox browser lists in the top three. It is one of the most efficient browsers to ever grace our computers. With the increase in usage of mobile phones it was necessary for companies to bring their browsers on mobile platform and that is what Firefox did.
If you love to use Firefox browser on your laptop, then you would love it even more on your mobile phone. Firefox browser is known for its unique and useful applications and features. Firefox is a very beloved browser and is one of the most downloaded apps on the internet. In addition to browsing the internet you can use the Firefox browser for a lot of other things as well.
Firefox Browser
Price: Free
Category: Communication, Popular Now, Productivity, Tools
Version: 67.0
Developer: Mozilla

Uninstall the app:
1. Go to Settings menu
2. Choose Apps or Application manager
3. Touch the app you want to remove
4. Press Uninstall.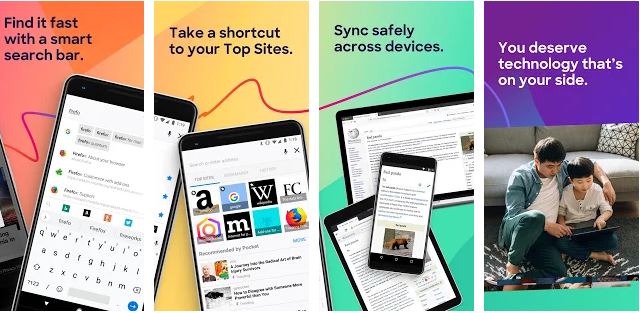 Feature and Benefits
Firefox Browser app is a very user friendly and efficient program.
Firefox browser can be downloaded on almost all major operating systems including iOS, Android, Windows and many more.
It is one of the most secure browsers on the internet. Some people even consider it to be the most secure browser that one can use.
Its Add-ons let you perform a lot of different tasks that other browsers don't have the capability to do so.
Like desktop version of the app, you can also save your username and password on the app so you don't have to log in every time you open the browser. If you used your laptop to mark certain bookmarks on your browser then you can have the same bookmarks on the app as well. The only thing you have to do is login with the same information as you do on your laptop. It provides great syncing options to its users.
You can bookmark certain links on the internet through the Firefox mobile app.
It also offers private browsing for people who want to search something on the internet but don't want to leave any trace or history of their searches.
Like the desktop version you can also block pop ups on your Firefox browser app.
Firefox Browser is Mozilla's most precious product. It has hundreds of different features that are unique in their own right. Mozilla makes sure to update the browser on a regular basis so that all the reported bugs can be eliminated as soon as possible. Firefox Browser app is totally free so people who download Mozilla Firefox Browser get to experience a fast and secure internet browsing experience without paying any charges.