Today everybody knows what Five Below is. They are a store that allows people to spend less than $5 for all of their products. They have everything you could possibly want in a store, from Toys and games to electronics. They even have food and candy, as well as many other great things. So with the app, we will discuss with all the great features they have, as well as why we think you should use the mobile version app instead of going to the store.
Five Below
Price: Free
Category: Shopping
Version: Varies by device
Developer: Five Below

Uninstall the app:
1. Go to Settings menu
2. Choose Apps or Application manager
3. Touch the app you want to remove
4. Press Uninstall.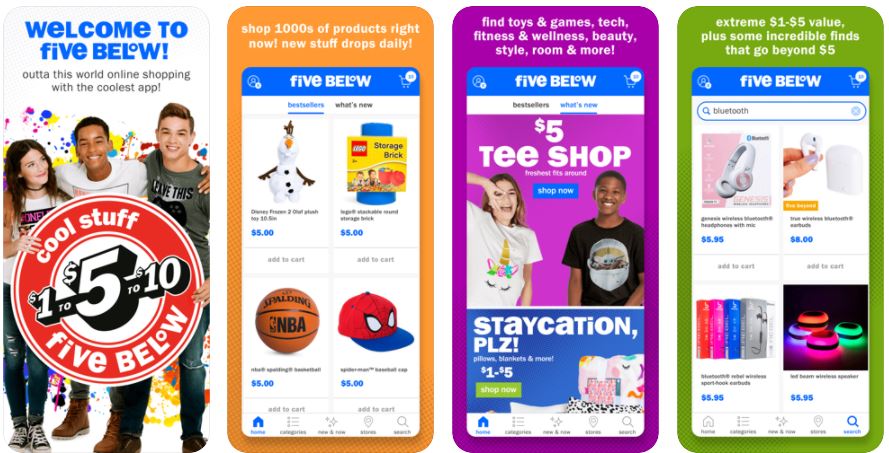 Knowing what you're getting is the best part of going to Five Below. However, with the app, you can see exactly what you're buying without having to get out of your chair and going to the store. That's not a feature, just a bonus. The app is super easy to use. You can navigate through what products they have in the categories tab. You can sort everything out by price, Category, color, and any other thing you could think about. They also have a shop without worry policy, COVID-19 is a thing now, and people don't want to go out shopping anymore. So with this app, they are bringing people into the store without having them actually come into the store. You don't have to worry about catching COVID-19 because you will be shopping from the comfort of your own home.
On top of the previous features, there is also the fact they always add new products. They had everything that you could possibly think of from towels, toys, games, candy, food, chips, drinks, Electronics, games, cards, and more. They also have the latest products come directly to their store, and then they ship them from the store to you, which brings us to our next feature, which is that you can order anything online with only $5 shipping. That's right. You only have to pay $5 for one order in the Shipping Department. This means you can buy $35 worth of items and only pay $5 shipping, or you could pay $562.75 and still only paid $5 for shipping. The next feature is that they have all of the latest trends, and they carry everybody's Favorite Brands. They sell clothes, apparel, books, movies, games, and more. They have stuff in stock from Disney to ESPN. They also sell sports items, as well as team logos depending upon the city you're in. However, with the app, you won't have to worry about the city here, and you only have to worry about which team you want to choose. They sell so much stuff, that on their app, they'll look like amazon.
Why is This App so Great?
The mobile app is a great version of Five Below because it gives you great discounts at low prices for name brand products. The shipping is fabulous, and the rest of the store is online for you to browse at your convenience. You'll be able to easily find exactly what you're looking for it all for under $5 apiece, as well as $5 for shipping on any order. There's no reason not to like the app, and you can join the over 1 million people who are already currently using it. Not only does it carry so many products, but it also has the convenience factor of shopping online. It's like Amazon for discounts, and the Praises just keep pouring in. There's so much to love about this app that it brings convenient and cheap shopping straight to your home. The mobile app version of Five Below is amazing, and anybody who knows how to work phone can use it. You can even use it on the Web.
Why Should You Download the Five Below App?
If you love shopping, then installing this app is a must. The install process is easy, quick, and you don't have to pay a dime. On top of that, to download the app, this is easy as typing in Five Below and your phone or web browser to get the app directly for your phone. There's nothing easier than finding Five Below, except for getting low discounted prices for name brand products. There is so much to love in this app that the install will seem like Child's Play in comparison to how easy it is to shop. So if you haven't got this app yet, you better start looking for where you can find it. Oh, wait, you've already found it, Click the link below to get it on your phone or web browser. Even going into the Five Below store in finding everything you need can be difficult, but with all of it in one place, and an easy category system to play with, as well as a search and filter option, shopping has never been easier. What are you waiting for, get the app today!