What apps are out there that can help students learn? Well, there are a plethora of them, but the app that we're going to talk about today is the Flipgrid mobile app. We'll discuss what it is, what the features are, and why you should give it a chance and download it.
What is the Flipgrid app?
The Flipgrid app is an app that allows students to get their voices heard in a way that they otherwise wouldn't in class. It helps students of all ages, not just Kindergarten through 12th grade. It helps even the brightest Doctrine students get their voices heard as well. It helps them to get their teacher's attention, their fellow students' attention, and more importantly, they get to hear everything their fellow students and their teachers have to say on what they are saying.

Flipgrid
Price: Free
Category: Education, Popular Now
Version: Varies by device
Developer: Flipgrid

Uninstall the app:
1. Go to Settings menu
2. Choose Apps or Application manager
3. Touch the app you want to remove
4. Press Uninstall.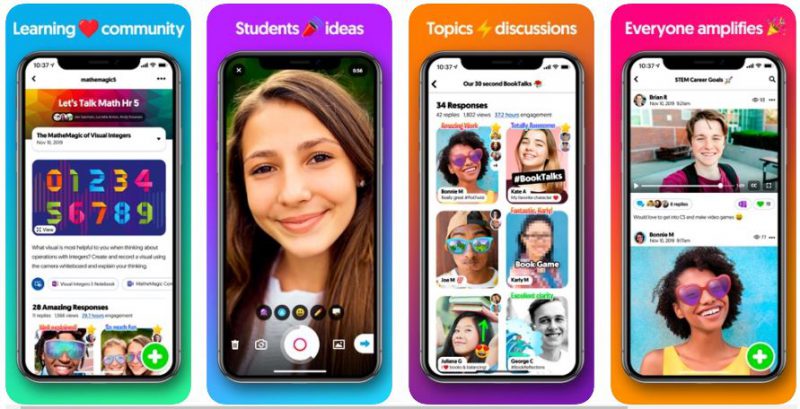 What are the Features of the Flipgrid Mobile App?
There is a multitude of features that can help students benefit from this app that ranges from posts to views. The first feature of the app is for the teachers using this for their students, the world, or the professional learning community as a whole. They can post topics of discussion for everyone to view and react to. The next feature is for the students from Kindergarten to PreMed, and its that you can record yourself and post your short or long videos on the discussion boards so that teachers and other students can see what you think about the topic. The next great feature is that you can upload anything to the app, whether it be a video, an audio response, or a text document that you want to share.
Now to the better features, you can view other student's work. When a new student posts on the board that the teacher had created, you can view all of the new work submitted right from your home and on your phone. Then you can react to other's work by creating a video, audio, or text document that supports or further helps the other student understand the subject better. Finally, you can respond to all of their works, and post your audio, video, or text documentation that you had created in order to help them better understand the topic of the discussion.
Remember that the focus of learning is not to make someone feel like they're dumb, but to help them understand what they got wrong, why, and how they can better understand it in the future. That's one of the core focuses that this app is trying to convey to students of all ages and studies.
Why Should You try the Flipgrid App?
You would want to try the mobile version of the app because it allows you to get your voice heard not only by the teachers but by the peers as well. This is something that is lacking in higher grades and college, and this app allows you to connect with your teachers and show them how smart you really are, and they can see your ideas and opinions in a new light rather than just a grade on a paper. There are so many learning and educational apps out there that finding one that fits all ages is iffy, but here it is. So why not give it a try, download and install the app today, and see what all the fuss is about. I guarantee that if you don't like it, you're either not a student, or you're the one in the front of the class always raising your hand. This app is for the kids in the back who want to be heard, understood, and listened to.