If you are an online shopper, the Geek-Smarter shopping app will serve you perfectly to make your shopping experience better and affordable. With features such as 50 to 80 percent discounts, we will forgive you for thinking that's too good to be true.
Geek-Smarter shopping allows geeks to acquire multiple items on a discount. These items may include car accessories, phone accessories, watches electronics, and the latest headphones. Geek mobile app allows you to place your orders from your device, and they are delivered to the front store. What makes this Android app stand out is its outstanding credibility.
Geek – Smarter Shopping
Price: Free
Category: Popular Now, Shopping
Version: Varies by device
Developer: Wish Inc.

Uninstall the app:
1. Go to Settings menu
2. Choose Apps or Application manager
3. Touch the app you want to remove
4. Press Uninstall.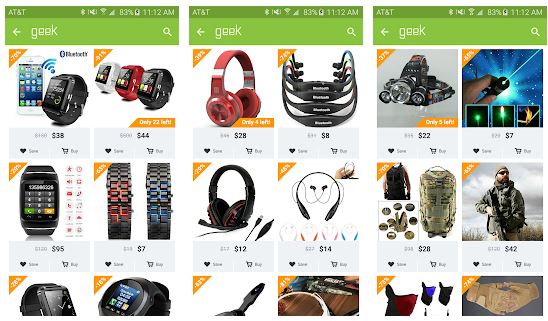 The Geek smart-shopping app connects your mobile device to the Geek website, where you can purchase gadgets and other accessories on a discount. There are multiples products on sale, including those that resemble name-brand items but are different. For instance, you can purchase $5 Airpods that are not the actual AirPods. There are several other similar kinds of deals with selfie-sticks, smartwatches, jewelry, to mention a few. Apart from the usual savings, Geek also provides hourly and daily deals.
How It Works
Visit the Appstore or Google Playstore then download the app. It is 14mb in size and, therefore, does not require a lot of phone space. After installing the app, you will have to create an account at zero charges and look for items on the site.
You cannot view the deals on the site without registration. When buying through Geek, you will be purchasing from a third-party seller. Geek provides a market place, where these third-party merchants can avail their items. The application is the envoy between the buyer and wholesaler for shipment tracking, disputes, questions, and so on.
Cheap and Useful Items
The items are incredibly affordable and useful. For instance, you can purchase plastic prying equipment set for about $2, enjoy free shipping and a welcome gift. There is no middle-men hence less control on quality and lower prices.
Variety of Products
The app connects you to third-party merchants selling China-made products. These merchants produce multiple items to satisfy the high customer demand. Geek is home to the latest gadgets and accessories like headphones, phone finger rings, speakers, electronics, car accessories, and phone upgrades. The app mimics the experience of wandering and finding yourself in a place flooding with items, and the search-first system allows you to look for items you need.
Legit Electronics
You can trust that all the available electronics on Geek are of the best quality. The sound quality of earbuds and speakers will blow your mind. You will also find functional and sturdy cables like HDMI and USB that work as promised. You can consult the customer support when purchasing items like smartwatches or tablets to understand their technical description.
Personalized Catalog
When signing up, Geek requests personal information, including social media identity and email address. Geek uses this data to list accessories and gadgets items that interest you and suit your budget needs.
Good Customer Service
Geek-app acts as the medium between you and the foreign factory. They provide excellent support as they strive to uphold their reputation. Since you are not consulting the factory directly, Geek will table your complaints to them and provide the necessary solutions. You can contact the Geek app support team by email or phone call.
Gift Cards and Rewards
Geek applies gift cards and rewards on eligible items. You will get a notification on your prize through the notification page when you receive rewards. There are different rewards, and you can utilize your reward points in your next purchase or redeem coupons.
Personal Data Safety
Geek asks for your email address, name, payment option data, Phone number, and shipping address at the sign-up stage. However, Geek safeguards personal information from hackers and other third-party sites.
Features
Geek –App Shipping
Most products you purchase feature free shipping from China, so shipping may take up to three weeks to get to your address. You will be able to view the cost of shipping and the predicted arrival for every item while shopping. Purchasing from different stores translates into paying multiple shipping charges.
Refunds
The Geek website has a return principle which enables refund on items if you make your request within 30 days after delivery. Use the site or application to commence the return. Geek app support team will respond within 30 days. In most cases, you will capture the image of the damaged or wrong product and send it. Geek will refund without prompting you to ship back the item.
Wrap up
You can install the Geek app on your phone or PC and begin your online shopping. This app will connect you directly to the manufacturer, allowing you to access cheap and high-quality products. The app has an easy and safe checkout, but you will have to create an account to see the deals