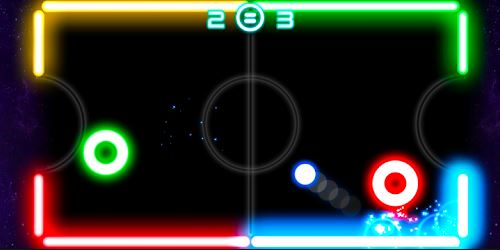 People enjoy air hockey and will play it all the time in arcades. Even though you can't always visit an arcade, and since air hockey tables cost a lot of money, you could try out the Glow Hockey app. So is this phone game worth the download and a blast to play or should you stick to playing air hockey when you visit the arcade?
Glow Hockey
Price: Free
Category: Arcade
Version: Varies by device
Developer: Natenai Ariyatrakool

Uninstall the app:
1. Go to Settings menu
2. Choose Apps or Application manager
3. Touch the app you want to remove
4. Press Uninstall.
Glow Hockey is a mobile app that mimics the way you play air hockey. This is done by giving you a glowing paddle that you can use to hit the puck in the rink. You can do this by putting your finger on the paddle and using it to swipe around your screen so you can deflect the puck when it comes to you. You should also note that you can tap a spot to move the paddle there.
If you want to win this game, then you need to score seven points before your opponent does. You do this by hitting the puck into their goal on the other side of the rink. Once you do this seven times, you win the game. It's simple to play, but it can be difficult to master, especially as you play other modes and try the harder difficulty settings. In short, Glow Hockey is a version of air hockey that you can play whenever you feel like it.
How the App Works
Glow Hockey keeps things simple: you just put your finger on the screen to control your paddle. You then use the paddle to hit the puck into the direction that you want, aiming at the enemy's goal. Even though the game itself is straightforward, you also have different game modes that you can play to keep yourself entertained.
For example, you could play One Player mode which allows you to choose between four difficulty settings: Easy, Medium, Hard and Insane. You can also play Two Player mode to have some fun with a friend. There's also Championship mode which starts off by having you play against a level one computer that increases in difficulty as you play.
This means that you have plenty of game modes to choose between so you can keep having fun with this app. This includes playing by yourself or sharing the fun with a friend.
Notable Benefits
This game will allow you to have plenty of fun whenever you need to wait for something. For example, you could be in a line to get food or waiting on the bus, so you could pull out this game and kill some time. The matches last less than five minutes, so you can easily play for a bit and then get back to what you were doing.
On top of this, it can be hard to find games that will allow two people to play on one device at the same time. Your friend and you could place the device on a flat surface and play together. This makes Glow Hockey an even better option if you play it on a tablet, iPad or any other large device since you can both easily play on it.
This makes Glow Hockey a great app when you are bored for a few minutes and as a fun activity that you can do with someone else.
Other Highlights
This game has some other nice highlights which makes this mobile app stand out. For example, the game has nice neon graphics that make it more colorful and fun to look at. The puck will bounce off the walls and make those sections light up, which is always a nice aesthetic appeal that you can enjoy.
The creators recognized that some people might not like those neon lights, so they gave you the option to change the board. You can change it to look like an air hockey board or you can use a Christmas themed board. You can also turn off the sound, music and the vibration whenever you want to make it less noisy and to save your phone's battery.
This means that you can easily adjust any of the settings in the game so it will display and sound the way that you want it to.
Conclusion
Glow Hockey is a fun game for people that enjoy air hockey and who want something that they can play with others. This way, you can bust it out while hanging out with a friend to have some matches and see who does the best. This makes it a great game to install onto your phone and give it a try.