Google Ads is a mobile app currently available for download. Recent updates improved the visibility of the user interface and overall functionality. Employing Google Ads makes for a clear and concise step-by-step process for creating, managing and leveraging networks for your ad campaigns.
Networking is built into the core of Google Ads. This frees up new ways to improve your online advertising. In all, it caters to a broad range of needs including:

advertising

videos

offerings

product listings

app downloading

Signing up for Google Ads is easy. You can login with an existing account. Emails already saved by Google should immediately populate on the sign up screen. This makes identity verification virtually instant. Using Google Ads means that you will have access to a healthy professional network, along with the ability to leverage the finest and most current tools.
Google Ads
Price: Free
Category: Business
Version: Varies by device
Developer: Google LLC

Uninstall the app:
1. Go to Settings menu
2. Choose Apps or Application manager
3. Touch the app you want to remove
4. Press Uninstall.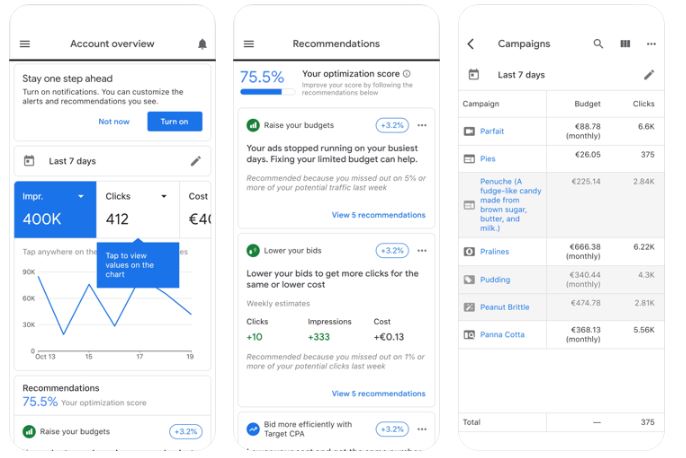 Home Page
The first page that you will see upon logging in is "Create Ad". Three easy steps are displayed here to guide you through the process of setting up your first campaign. The first step is to select your ad type. Next you'll need to actually create an ad. The third outlines your budget. In addition to this overview, the Campaign page / Home Screen features two tabs on top. On the left is a drop-down menu and on the right is the Notifications tab.
Other Useful Screens
The drop-down menu organizes your options. You'll see a link to the Campaign screen in case you need to navigate back. Billing and payments is another option on this menu. So are settings, feedback, and help. A help link is also found in settings. It provides contact information for customer service representatives via phone and chat. You can also provide feedback here. The most common issues are listed, as well as a search bar for additional questions.
Who is Google Ads For
Google Ads is for people who wish to streamline and improve the efficiency of their ad campaigns. It has benefits for all the aspects involved in managing, tracking, funding, and interacting with your ads. With this app, Google demonstrates that advertisement planning does not need to be complicated to be effective.
All Types of Advertising
The Google Ads app is designed for all types of advertising. When you begin a campaign, the first thing you'll be asked to enter are your advertising goals. The three main options available are for increasing your calls, getting more foot traffic to your physical location, or adding to your website sales and sign ups. Google Ads provides a description for each to ensure that you're aware of, and prepared for, the path that you're choosing for your campaign.
Getting Listed
Once you choose your goal, you'll be asked to name your business. If you do not have a business, you can create a listing for free through Google My Business. This listing will be displayed on Google Maps.
When you use Google Ads you have the added benefit of being at the forefront of new performance features. You can make adjustments to the performance summary and your notifications through the settings page. It's all set up so that you succeed on your first try.