It was in October of 2004 that Google purchased the Google Map program from Where 2 Technologies. Included in the package was a traffic analyzer. The company was then launched in February of 2005.
You can finally navigate the world around you and get information about all types of global geographical sites. Satellite and aerial views of cities and homes are made with the help of Google Maps download. Find any street by viewing photos of it. All photos are taken by a vehicle that drives through and takes photographs of the various streets and sites.

Google Maps
Price: Free
Category: Maps and Navigation, Popular Now
Version: Varies by device
Developer: Google LLC

Uninstall the app:
1. Go to Settings menu
2. Choose Apps or Application manager
3. Touch the app you want to remove
4. Press Uninstall.
Best App Features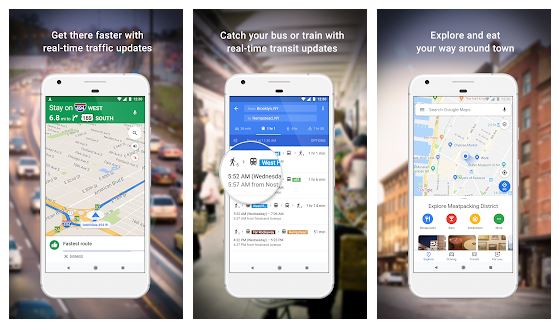 If you're in a rush, just check your Smartphone or another mobile device. Find the best and fastest route to your destination. Are there any traffic jams or accidents along the way? There may even be road closures and traffic jams on your route. You'll never get lost again…..
Imagery using satellites and 360 views of panoramic photographs of streets can be viewed on your computer or smart devices day and night. You can plan your routes for that family trip in October ahead of time. Some of the other features of the Google Maps App are finding public car transportation locations, as well as your favorite restaurant, business, hair salon or bar.
Satellite View
Whether you're on a bus, in a car or on foot, the download can easily get you to your destination. Its satellite view in 3D of mountains, houses, and parks is truly fascinating. Going from the Mercator projection, it's possible to go back and forth accurately. The Mercator projection is used by making a straight line to enable a map of the world to be projected onto a cylinder. This method was used for making climate maps and marine charts.
In 2017, there were over 1 billion users of the app. There's a bird's eye view and a top-down sight that's taken from an aircraft flying 240 to 460 meters and from there clear and high-resolution aerial photos are entered into the Google database.
The Seven Benefits for Business
1-Customers can make informed decisions
2-It's the best way to find a Target Audience
3-Creating a comfortable and convenient experience
4- Customer trust is being built
5-Passive marketing results are achieved
6-The research process is greatly enhanced
7- A better connection is achieved
Sharing Location Addresses
If you want to share your favorite addresses with either clients or your colleagues, then many geographical locations can be shared via email or text. You can even send a text or number to the GPS easy navigation mode.
Among mobile apps offered by Google, this is the best one. If you want to get a reliable and efficient mapping system online, then you'll need to download the FREE app and get started by entering the information it will ask you for. Travel time is one of these apps best features since you'll always know when you'll arrive at your destinations.