PC and console gaming is an expensive hobby for most people. Google Stadia aims to change that by providing cloud access to PC and console games on any mobile device. The service just launched for early adopters to test out a subscription-based game streaming service.
Google Stadia is like the Netflix of video games. A subscription fee of $10 will get users PC-quality games to play on any device that can run a web browser. Cloud-based streaming services aren't new or novel ⁠— OnLive, PlayStation Now, and Nvidia GeForce Now all tried their hand at cloud streaming.
Google Stadia
Price: Free
Category: Entertainment
Version: Varies by device
Developer: Google LLC

Uninstall the app:
1. Go to Settings menu
2. Choose Apps or Application manager
3. Touch the app you want to remove
4. Press Uninstall.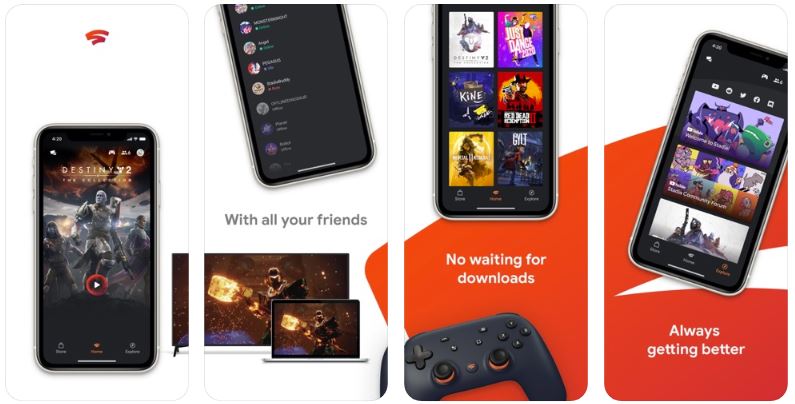 Google is hoping to take cloud gaming to the next level by offering a consistent experience where hardware is optional. Right now, early adopters can purchase a $129 hardware bundle that includes a streaming box and controller. Google hopes in the future that these hardware accessories will be optional. Google Stadia is designed to work with Chromecast Ultra, a Google Pixel phone, or any computer with the Google Chrome browser.
The Stadia Premiere Edition includes a Chromecast ultra, Stadia controller, and three months of Stadia Pro. The bundle also includes one additional game of your choice, all for $129. The Premiere Edition controller is a mixture of the Xbox One and PlayStation 4 controller.
The service is only available to early adopters right now, with a planned live launch in 2020. When Google Stadia launches, it will offer a tier with no subscription fee. Users can buy games for their full retail price. Subscribers will get a discount on games they purchase outside of their subscription. The free tier offers game streams at 1080p and 60 fps. The Stadia Pro subscription will offer free games and 4K HDR streaming.
Google Stadia Features
*Stream PC and console games to mobile devices
* $10 subscription provides access to most games
* $129 hardware bundle includes one game and controller
* Free tier offers 1080p/60fps game streaming
* Paid tier offers 4K HDR game streaming
* Streams are virtually lag-free, but depend on the connection
* Stadia doesn't support achievements at launch
* Cross-play will come at a later date
Google Stadia - Monetization
One sticking point for many people when it comes to Google Stadia is the ownership of content. Even buying games using the service doesn't mean you own them forever. You cannot download local copies of the games you've purchased to your own hardware.
This issue might be a sticking point for many people since Google is notorious for shutting down projects. What happens to the games you bought if Google Stadia shuts down three years from now? These murky questions make it hard to consider Stadia a worthy investment right now. The subscription tier with free games is fine, but purchasing full copies of games doesn't seem like a good idea at launch.
Should I download and install Google Stadia?
Google Stadia is very much a work in progress. If you like supporting new technology and want to see game streaming become more viable, it may be worth checking out. The $129 hardware Founder's bundle even includes a $60 voucher for one game.
However, if you're expecting PC quality streams with virtually no lag, you may want to reconsider. Early reviews point to lots of latency issues with game streaming, especially fighting games. It's also worth noting that the Stadia mobile app only works with Google's Pixel phones for now. That restriction will be loosened when the service officially launches in February next year.