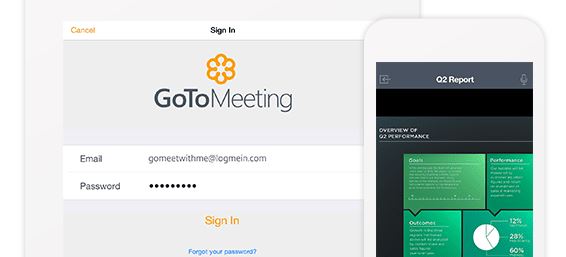 There are a lot of useful reasons that you might be interested in downloading and using the GoToMeeting Video Conferencing app. You can easily setup online video meetings and conference calls with this high-quality app, and thousands of existing users have already taken advantage of the useful features that have been integrated into this digital platform.
You can join a video call with the tap of a button from just about anywhere with an internet connection. This could be an extremely useful tool for work-related situations, but it can also be used casually between friends and family members.
GoToMeeting – Video Conferencing & Online Meetings
Price: Free
Category: Business
Version: Varies by device
Developer: LogMeIn, Inc.

Uninstall the app:
1. Go to Settings menu
2. Choose Apps or Application manager
3. Touch the app you want to remove
4. Press Uninstall.
One of the really nice things about the GoToMeeting digital app is that no sign-up process is required. You don't have to input payment information or personal information. All you have to do is setup a video call and host the session with a simple button press. The simplicity of the app is one of the primary factors that makes this one of the most popular app selections for this purpose. We will be using the next section of this review to look at in-depth features that might come in handy when using this Video Conferencing app.
Features and Benefits
We briefly mentioned some of the features in the introduction of this mobile app review. The fact that users can download and install this app for free, and then proceed to setup a video conference session in a matter of seconds, is one of the primary reasons that it has received so much positive feedback and success.
Users can host sessions, schedule meetings, and utilize the in-app interface to make important decisions with no stress at all. This app is compatible with just about every type of Android phone or tablet.
Some of the other neat features include screen sharing capabilities, notifications, alerts, and much more. The organized scheduling is extremely useful for people that need a reminder before their next scheduled session, but you also have the option to customize all of your settings and choose the alerts that you want to receive from the app.
Features

Fast Video Conference Session Hosting with No-Sign Up Process Required

Notifications for Scheduled Meeetings and Other Custom Alerts

Users can utilize the built-in Screen-Sharing Technology

Pros

Compatible with Most Android Phones and Tablets

No-Sign Up or Payment Information is Required (Free to Use)

Positive User Feedback on the App Store

Cons

Audio and Video Quality is Not Always Stable

Conclusion
If you have an Android phone, then you should certainly consider transitioning to the GoToMeeting Video Conferencing digital app. It is completely free to use, and no sign-up process is required. You will also never be required to submit any kind of payment information.
There are a few minor glitches, including some instability in the video and audio quality, but these issues are rare and you will probably have an exceptional experience most of the time. You can visit the App Store page and learn several additional details from existing users by taking a look at the review section.