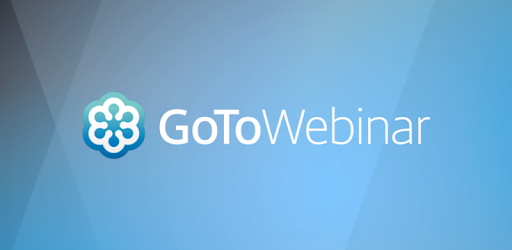 GoToWebinar has been the market leader in online event organization for many years. With their new mobile app, you no longer need a computer to attend or organize webinars. You can connect to a whole host of online events with nothing more than your phone and an internet connection. Here is a breakdown of what you can expect when you download GoToWebinar.
GoToWebinar
Price: Free
Category: Communication
Version: Varies by device
Developer: LogMeIn, Inc.

Uninstall the app:
1. Go to Settings menu
2. Choose Apps or Application manager
3. Touch the app you want to remove
4. Press Uninstall.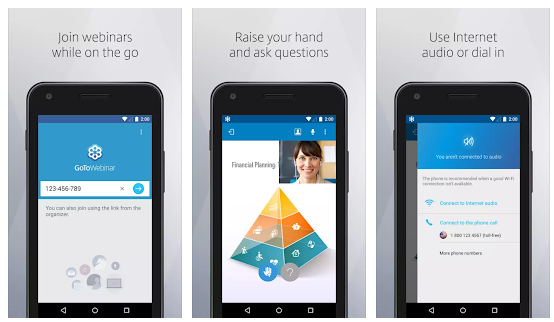 Features
After the initial install is complete, you can log into any online event by clicking on the custom GoToWebinar link. These links are shared by event organizers with anyone who has the authorization to view the webinar. Upon clicking a link, your mobile app will automatically open and download the relevant files needed to access the stream. Once linked to the event, you can listen in with your phone's speaker or plug in a headset for vastly improved audio quality.
During a stream, you have several ways to interact with the presentation. You can switch between viewing the speaker's webcam or informational slides if any are being displayed. If you want to get the speaker's attention or ask a question, you can raise your hand to notify them. There is also a basic text chat feature that can be used to communicate with other attendees. Finally, you can participate in polls to have your opinion heard.
As a presenter/organizer, you have plenty of options to tweak your broadcast as well. The first thing you'll need to do is schedule an event. Once you have the initial launch set up, you can then choose to archive or make it a recurring webinar. Recurring webinars are a useful way to get your presentation in front of as many eyes as possible. Speaking of, you can easily copy and paste registration links to share your event online. There is even a list that helps you keep track of everyone who is slated to attend. Once a broadcast begins, the presenter can share either a phone or computer screen so it is easier to convey information visually.
Benefits
The biggest advantage of using GoToWebinars is the sheer amount of flexibility it provides. Whether you want to attend or organize an event, very few mobile apps over this much customization over the experience. Options like wireless headset support or VOIP connections provide excellent sound quality even when people from different countries are communicating.
Pros
GoToWebinars is free to install and incredibly simple to use. This combination of attributes has allowed the app to explode in popularity over the years. Organizers can comfortably rely on the service to get their webinars and other events in front of many interested viewers. Simply put, anyone can download the app and have it working in seconds. This unparalleled usability is the number one reason for GoToWebinar's success.
Also, the sound quality is generally much better than many of the competing webinar apps. The improved voice clarity makes it way easier to catch all of the important details being presented.
Cons
As great as the service can be, the mobile app still has a few things that can hopefully be improved on in future software updates. Most notably is the slight lag when compared to the desktop version of GoToWebinar. While the mobile version is newer, it should provide equally stable connections as its pc counterpart. There are also a few compatibility issues with some phone models, but these are few and far between.
Conclusion
It is quite easy to see why GoToWebinar has exploded in popularity from the start. As more people need a reliable way to communicate and present their ideas online, the best services will naturally rise to the top. GoToWebinar provides the perfect balance between simplicity and quality that ensures everyone will have no qualms using it. The best part is that it is free for anyone to try. The next time you plan on organizing an online event, GoToWebinar will provide everything you need to get your presentation off the ground.