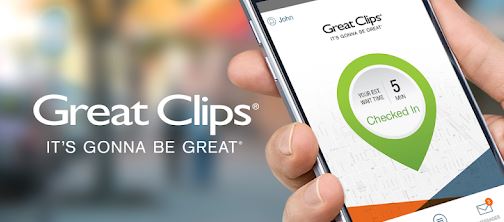 With over 4,400 hair salons across North America, Great Clips offers a convenient place to get your hair cut, styled, or colored. Recently, the company added a new feature to its business model: a mobile app!
A convenience that only modern technology can provide, the mobile app allows customers to create a profile, find local Great Clips locations, see estimated wait times, and check-in! With several other features, this new accessibility from the salons gives a smoother and more convenient experience for everyone. That being said, there are a few functions the app could add to be even stronger. Let's look into how the app works!
Great Clips Online Check-in
Price: Free
Category: Lifestyle
Version: Varies by device
Developer: Great Clips

Uninstall the app:
1. Go to Settings menu
2. Choose Apps or Application manager
3. Touch the app you want to remove
4. Press Uninstall.
Customers can download and install the app on their mobile devices to pull up a map of all Great Clips locations. Either by syncing their location or entering in their zip codes, the map will show the salons nearest them. This easy to read map is movable and updates, as the customer drags it across the screen. For those who have used Google maps, the functionality will feel very similar!
Atop each salon a pin will appear, showing the estimated wait time to receive services. The customer's map will display these pins across the requested distance range. To choose a salon, customers simply click on whichever pin works best for them, considering wait time, distance, and salon preference. That action saves the customer's place in line. This convenient feature reduces the time customers must wait in the salon or their car for their stylists to be ready for them.
Upon hitting the 'check-in' button, customers will be asked for some basic information. This includes their first and last name, a call-back phone number, and the number of guests that will be traveling with them. This allows the salon to plan accordingly and know how to reach customers in case of schedule changes.
Customers can then leave their house, or wherever they may be located, and travel to the salon at the appropriate time. For example, if a customer chose a salon that had a one hour wait time, he or she could wait until 15 minutes before the appointment to leave. Again, it adds a great deal of time-saving convenience!
Once in the salon's parking lot, customers will use the app to indicate that they have arrived. Then, once their stylist is ready, the salon will notify the customer via the app or in person, depending upon location. Usually, the time from arrival to meeting the stylist is less than 5 minutes with this app.
Your Profile: Convenience and Privacy
An interesting feature of the app is the option to add a profile. If customers choose to do so, the app will send haircut reminders through their mobile devices. It also allows customers to save their favorite stores, similar to most mobile apps.
It's important to note that this profile is completely optional. To check-in with the app, customers do not need to create a login or profile or provide an e-mail address.
Fun Bonus Features
There are two nifty extras included in the app. First up is the all too important directions. Once a customer has selected a Great Clips salon, the app will automatically sync with whichever map services is installed on their device to provide exact directions from their current location. This allows for a seamless transition on the customer's end of things. Also included are helpful hints in finding the salon. For example, in the shopping plaza, next to Store X may be listed.
Potential for Growth
While this Great Clips app is extremely convenient, there are a few things to be aware of. Let's take a look at a few of them here.
In an attempt to protect the privacy of their stylists, Great Clips hair salons will not put stylist schedules in the app. This means that customers cannot choose a stylist from the app. Estimated wait times are based upon the first, not preferred, stylist available. To choose a particular stylist customers can ask the salon once they arrive, but wait times may be a bit longer.
Check-in cannot be performed before the hair salon is open. This means that the first hour the salon is open can be a little chaotic in terms of the app's estimated wait times.
Customers cannot make an appointment for a later day or time, though most locations will take them by phone. The app will only allow customers to schedule hair services for the first available time.
Final Thoughts
Great Clips now offers an incredibly convenient app that allows customers to check-in from their mobile devices. With many options like hair service reminders and lower wait times, the app takes the stress away from scheduling hair appointments!