Who does not like to save big money? With the mobile Groupon app, economizing is so easy with discounts up to 70 percent on your daily needs, nights out, travel adventures, gift certificates and much more. Download it today and start browsing for fantastic deals on electronics, toys, classes or beauty and fashion products. Take advantage, anytime, of on-demand Groupon-only deals on local products and activities that you might otherwise miss.
Plus, you will never have to clip or print a coupon again as all these great offers are easily retrievable from your Android or iOS portable device.
Groupon
Price: Free
Category: Shopping
Version: Varies by device
Developer: Groupon, Inc.

Uninstall the app:
1. Go to Settings menu
2. Choose Apps or Application manager
3. Touch the app you want to remove
4. Press Uninstall.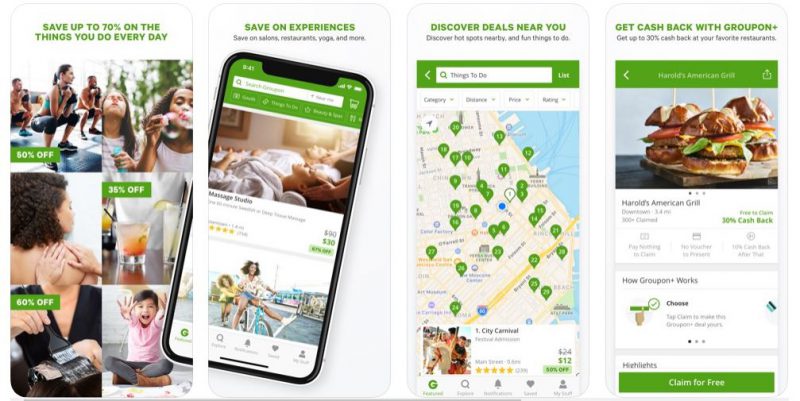 Groupon App Valuable Features
Groupon savings are just a quick click and install away. After that, enjoy browsing their several thousands of saving opportunities:
Groupon deals are available for immediate redemption right from your phone or tablet
Before you buy, check out Groupon reviews from customers who took the deal
Write your own reviews to let others know if the deal you found was great or not
Search for deals by categories, such as Beauty & Spas, or by specific stores
Quickly share discounts with family and friends directly from the app
Stored vouchers are tracked by expiration date so you remember to use them
Set up personalized alerts so you never miss an outstanding deal
Apply instant vouchers or promo codes as you shop in malls
Eat at Groupon participating restaurants for up to 30% off
Use Groupon Getaways offers to save big on travel and accommodations
Event and holiday shopping are easy with specially-themed offer collections
Find thousands of low-priced deals in real-time based on your current location
Use the app as a search tool to discover the best restaurants, entertainment or health outlets
Groupon's special "Things to Do" section will always keep you entertained
Enjoy the best offers on items and entertainment you never even thought of before, at any time, from anywhere.
Start Your Savings Spree Now
The Groupon app is available for Android devices running version 4.4 and up. Any Apple iPhone, iPad or iPod touch with iOS 10.0 or higher is compatible with this app. Yes, there are ads, but the vast majority of users find them unobtrusive and a small price to pay for consistent savings.
One-Stop Digital Coupon Clipping
Forget about old-school coupon searching and clipping once you install the Groupon app. This is one app that pays you to download, literally. Promo codes, discounts and instant coupons for groceries, food, health classes and tours are just a tap away.
The Groupon mobile app has tens of millions of users in hundreds of cities across the globe. Find out what you are missing and enjoy the biggest, hassle-free discounts on everything you are already buying.