Hungry but don't want to go out? Whether it is an epic Fortnite marathon, or maybe the season finale of The Bachelor, there are plenty of reasons that you won't want to leave the house to get something to eat. At the same time, cooking can take even longer. Luckily, the days of delivery being confined to Chinese food or pizza are long gone thanks to a number of delivery apps, with a leader of the pack being Grubhub.
Grubhub partners with all your favorite restaurants to offer delivery right to your house. They work with major chains like Taco Bell, as well as local favorites. Got a favorite Greek or Indian restaurant? Chances are that they are covered by Grubhub. Even those favorite Chinese places or pizza joints offer delivery through Grubhub.
Grubhub: Local Food Delivery
Price: Free
Category: Food & Drink
Version: Varies by device
Developer: GrubHub.com

Uninstall the app:
1. Go to Settings menu
2. Choose Apps or Application manager
3. Touch the app you want to remove
4. Press Uninstall.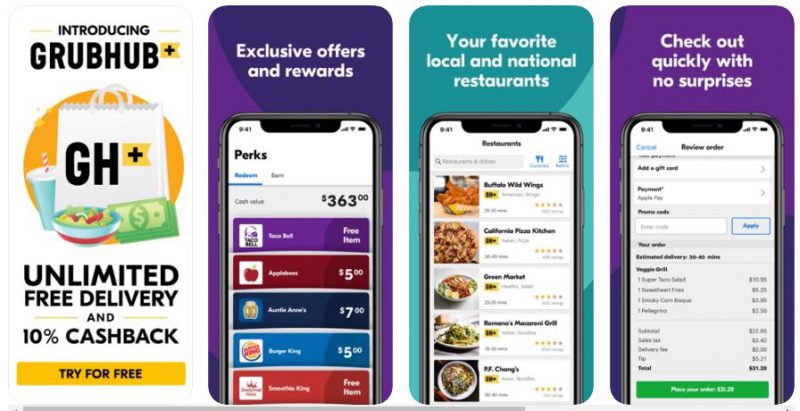 Like many other apps, Grubhub started off in major cities and has worked its way into most of the US. Additionally, it has built partnerships with many major restaurants. From Panera to Shake Shack, many of your favorite national and regional chains are on Grubhub, in addition to smaller places. In fact, some 'restaurants' on Grubhub have been set up that only offer delivery through the app, with no physical dining room.
Why Bother Using Grubhub
Grubhub is a food delivery app, but it is also so much more. Grubhub allows you to order food online, even from places that don't offer online ordering. This means that you can confirm your order visually, and know that they are seeing exactly what you're putting down. For those who worry about a dish with extra scallops suddenly being interpreted as being 'extra scallions,' this is useful enough.
Additionally, Grubhub lets you know exactly when your food will be there. We've all ordered something only to have it show up an hour (or more) later than promised. Grubhub keeps you updated on the status of your food, letting you know when it is prepared by the restaurant and when it is on its way to you.
If all that wasn't enough, restaurants partner with Grubhub to offer deals through the Grubhub app, meaning that you get the chance to score some pretty great deals. Whether it is a buy one, get one free offer on a pizza or just a free taco, that means that you can get extra value for your money, all without leaving the house.
Finally, Grubhub is transparent about its pricing. Yes, you will have to pay for delivery, but chances are that you were going to pay any restaurant a delivery fee. However, Grubhub has no hidden fees. What you see is what you will pay. Best of all, if you are the type of person who orders food a lot, then Grubhub+ allows you to get free delivery for every order, as well as 10% cashback on each order. Two or three nights a week can quickly make that worth your time.
Should You Get Grubhub?
There is a growing number of food delivery apps out there, but Grubhub makes a case for being one of the best. Its transparent pricing, frequent deals, and sheer reach all make it worthwhile. Additionally, the opportunity to order off of so many different menus means that you can manage all your deliveries from one app; in those cases when you have finicky house guests (or children), being able to order in the same app to two different restaurants is a great asset.
How to Get Grubhub
Getting signed up for Grubhub is fast and easy. Simply download the mobile app from your favorite app source, like the Google Play Store or the Apple App Store, and install it on your mobile device. In just a few taps, you'll be ready to place your first order, and within an hour will be eating just about anything from your neighborhood.