Coloring is a fun pastime for kids and adults alike. In fact, there's a big market for adult coloring books that are not only fun but also reduce stress. However, not everyone has a coloring book and pencils with them when they need to release a little stress. That's when the Happy Color — Color by Number mobile app comes in handy.
Do you remember the color-by-number coloring books? In fact, they still make them for kids and adults. Each section of the picture is marked by a number that correlates to a specific color. Then, you fill in the whole picture without worrying about which colors to use. The Happy Color — Color by Number app puts that concept on your phone or tablet.
Happy Color™ – Color by Number
Price: Free
Category: Board, Casual
Version: Varies by device
Developer: X-Flow

Uninstall the app:
1. Go to Settings menu
2. Choose Apps or Application manager
3. Touch the app you want to remove
4. Press Uninstall.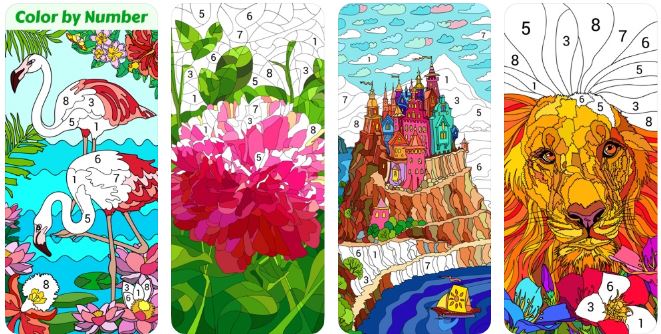 When you download Happy Color — Color by Number, you'll be "happy" to see that the app is completely free. Best of all, you get quite a bit of content for free too. The app features over 2,000 pictures to color with correlating numbers. However, you don't always have to follow the numbers. You can color each picture as you see fit. Because of that, you have nearly endless possibilities.
X-Flow, the creators, update the app with new pictures pretty regularly. While there's no set schedule for the release of new pictures, new ones are added from time to time. Even after you finish coloring all of the pictures in the app, you can look forward to getting new ones at a later date.
One great thing about the Happy Color — Color by Number app is that it's safe for kids and adults. While the app labels itself as a coloring book for adults, kids will likely get a kick out of coloring these pictures as well. The only thing to consider is that some of the pictures are pretty complex. As a result, some young kids might have a hard time finishing or understanding what the pictures are.
There isn't much not to like about the Happy Color — Color by Number app. However, it's worth pointing out that it has ads. They aren't too annoying but are there nonetheless. Also, the game features microtransactions that range from $1.99 to $3.99.
Is it worth your time to install the Happy Color — Color by Number app? It really depends on if you enjoy coloring. If you want a free way to reduce stress and color on the go, you can't go wrong with this app. While it features some ads, they don't ruin the experience. At only 36 MB in size, you don't really have much to lose from downloading this app.