The home service professional market is usually stable. Many service professionals are employed to serve the evolutionary behavior and current taste of the homeowner. Patterns of elegant and consumer spending add value to any home. Our residence is considered to be a great asset. It's the place where our families are born and grow. Most of our time is spent there. It's our biggest saving. For this reason, it must be well-kept, functional, comfortable, and safe. From time to time, it needs a face-lift in some of its spaces, such as the kitchen, dining room, office, bathroom, living room, and bedroom.
Award-Winning App
Getting advice from professionals is always a good thing, especially when it comes to renovation and remodeling of a home or office space. The Award-Winning Home Advisor mobile app connects you with a variety of services. The app will hook-up the homeowner with local and reputable contractors listed on a reliable network provider. A detailed customer feedback rating is also registered on the app.
HomeAdvisor: Find a Contractor
Price: Free
Category: House & Home, Lifestyle
Version: Varies by device
Developer: HomeAdvisor.com

Uninstall the app:
1. Go to Settings menu
2. Choose Apps or Application manager
3. Touch the app you want to remove
4. Press Uninstall.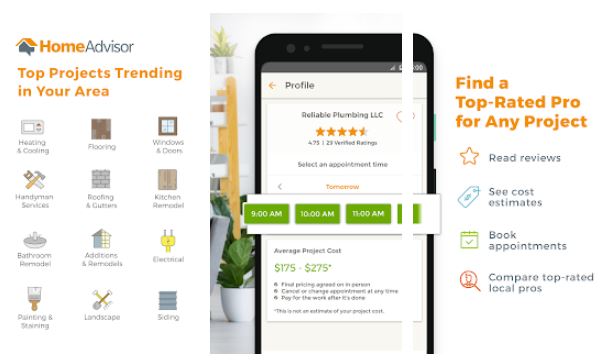 How to Match a Homeowner to A Pro?
The homeowner pros specialize in repair and maintenance, home renovation and much more. Just download the Android and iPhone compatible mobile app. You can install the app on your phone or mobile device for quick access. Use it at all times during your undertaking. Over 500 projects are mentioned along with the reviews of the jobs after they have been completed. These are all available on the app.
Some features of the App are the following:
FREE App installation

Compatible with iOs, Android and smart devices

View the cost of the job

Obtain a rate

Book an appointment online

Get reviews

ProFinder Technology
The professionals listed on the app are available for all types of home projects. A patented ProFinder program comes with the app. This technology facilitates the process of finding the right professional quickly and without any effort from your part. All you have to do is download the Home Advisor app and get started.
The five-step process for getting in touch with pre-screened contractors is listed below:
1) The homeowner enters the desired project on the Home Advisor app.
2) Pre-screened pros are matched up and selected for the job.
3) Reviews and ratings are presented to the homeowner.
4) Scheduling an appointment for a quote is easy via the phone.
5) After the job is completed to satisfaction, it'll be rated by the homeowner.
So how much does it cost to remodel a bathroom?
Using the Home Advisor app, and as an example, the typical range is between $5,970-$14,911.
To be accurate it's best to use the "True Cost Feature" on the app. Here you can find the bathroom remodel cost calculator to determine the following costs:
Cost breakdown per project

Reliable and free cost estimates

Updated daily project costs

Real home project costs

Labor costs per project

Material pricing for each job

How to remodel on a budget

Expansion cost for room additions

Permit information and costs

Home Improvement versus Home Maintenance
Who would have guessed that consumer spending on home improvement had risen by 17% in the last year? People are also spending more on home improvement than home maintenance. It's a ratio of $5 to $1 for home improvement versus home maintenance. Room remodels are the number one type of job that's being requested. Bathrooms are the next most asked-for home improvement task. Statistics show that older homes need less emergency spending than newer homes. It also depends on where you live, as well as the weather conditions.
Sending messages and project photos to pros using the app is convenient. Make sure you install the app on more than one of your devices. You now have immediate access to your contractor and improvement plan, without having to go home to your computer