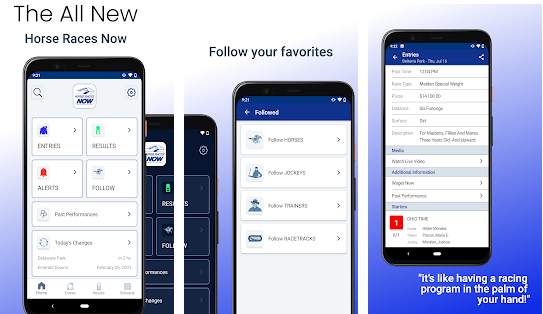 This incredibly innovative app allows horse racing fans to tune in directly to their favorite racers and view important statistics surrounding the exciting sport! Don't ever miss the important critical moments again with Horse Races Now which sends you notifications when races are live. You can then tune in and view the race and follow your favorites for an incredible experience. Not only that, but you can view important statistics surrounding various races and re-watch any race that has occurred already so there's a backup plan in case you are busy and miss one. Important news is also available to read for valuable insight into the exhilarating sport! Look no further for advanced handicapping tools because they are all provided here with organization and exceptional clarity to make informed decisions. Kenny McPeek is the founder and holds a personal passion for the sport which is why he founded this amazing application to rekindle the flame for horse racing in old and new fans!
Horse Races Now making strides to improve the scene!
Horse racing has a rich history of exciting moments which have stood the test of time, but the scene has been struggling to maintain its vigor. This is a common occurrence in other sports, but this isn't the end of this beloved sport. Horse Races Now is an application that originated in the mind of an avid fan and racer of the sport, and you can feel the passion from simply using the app. It is developed with the well-being of the sport in mind and seeks to reach a wider audience for increased perspective and gives exciting information which enhances the racing experience! It's a surprise a horse racing app wasn't developed sooner, and it's wonderful that the void has finally been filled with a reliable option for mobile users to download and access immediately!
There are many who are very in tune with the scene who are dedicated to enjoying one of the underdogs of the sports world because it features horses which are beautiful creatures. It also takes a tremendous amount of skill to execute racing along with important training for horses. Horse betting is also a popular activity that allows people to make a profit from predicting the right outcomes. This application empowers fans in the modern era to view their matches from any smartphone or tablet, and brings the sport into modernity with a smooth transition! Any device that is capable of streaming can download it and access the races with majestic horses that people have come to know and love over the years for good reason!
Horse Races Now
Price: Free
Category: Sports
Version: Varies by device
Developer: Horse Races Now, LLC

Uninstall the app:
1. Go to Settings menu
2. Choose Apps or Application manager
3. Touch the app you want to remove
4. Press Uninstall.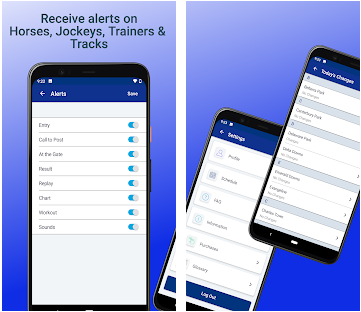 Features and Benefits
The first notable feature of Horse Races Now is that it is highly accessible and doesn't take up too much space on your phone. This can often discourage people from downloading certain applications. It is compact and still thorough in making sure fans of the amazing sport are encouraged to give it a shot because of the immense convenience it offers. There are a lot of races to view, but chances are you can't see them all unless you give Horse Races Now a shot. Another feature includes the impressive live feed that allows users to view the races in action like never before! The picture is clear and accessible no matter where you are which encourages more people to take part without directly going to a track.
The benefits of push notifications are that when you happen to be on the go it will remind you that there's a fun race to watch. Live feeds are becoming increasingly popular, and covid has caused many other people to switch to a mobile platform instead of going to a stadium or race track. This helps to keep horse racing alive and flourishing for future years and benefits the racers with increased views and revenue. It is a comprehensive resource hub that offers replays that are just as invigorating if you haven't viewed the race yet. It will definitely give you something to look forward to and even attract new fans due to its accessibility! Staying informed is another excellent benefit that keeps people engaged with horse racing and serves as an educational platform to observe recent news!
Pros and Cons
Pros
Stay informed on the latest races
Understand the scene better
Gain valuable information regarding handicaps
Cons
The new version seems to have some bugs
May need to purchase premium for optimal experience
Questionable reliability in receiving notifications
Conclusion
All in all, horse racing is definitely an older sport that required a revamp to be brought to a more modern crowd. Kenny Mcpeek has accomplished this through implementing innovative technology while consulting with his software developers. The app is updated according to user needs to work out any bugs, and the base experience has gained attention and reputable reviews from avid fans. If you're a horse racing enthusiast then this app is a must-have because previously there was nothing like it. Horse Races Now features the convenience of having exhilarating horse racing at your fingertips without having to tinker with your television or go to a race track.
Although the live experience is unique and special to most lovers of the sport, viewing the feed from your phone can be just as fun when you're on the go. It allows you to effectively manage your time and view anticipated races with ease even if you're waiting in a line or places like the airport. It ensures that fans don't miss important updates regarding wins, statistics, handicaps, and news regarding race conditioning and prospective results! This application is their way of giving back to the racing community by connecting the world to a classic sport that deserves more attention.