We are going to be taking a closer look at some of the reasons that you might want to consider downloading and installing the Humana Pharmacy app onto your smartphone. This convenient pharmacy app makes it easier than ever to keep track of your prescriptions and request refills and new orders. Prescription transfer can also be completed with ease.
The exciting new design within the app is specifically focused on making it easier than ever for individuals to manage their prescriptions in an organized way. This convenient app is free to download, and it is also compatible with most smartphones. The existing user feedback is extremely positive, but these are only a few of the reasons it might be a great idea to install this app.
Humana Pharmacy
Price: Free
Category: Health & Fitness, Medical
Version: Varies by device
Developer: Humana Inc.

Uninstall the app:
1. Go to Settings menu
2. Choose Apps or Application manager
3. Touch the app you want to remove
4. Press Uninstall.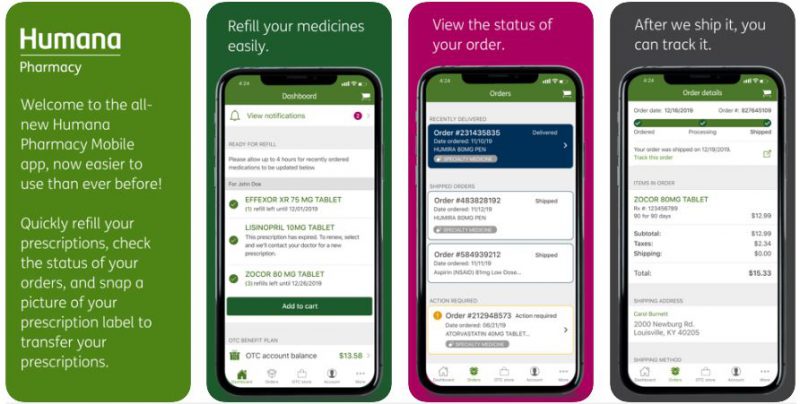 There are several tabs and pages included within the app that will allow you to access your prescription information, pending orders, payment options, shipments, and other important details. We will cover several of these features in the next section of this review as well.
Features and Benefits
This section of the Humana Pharmacy Digital App Review is primarily focused on finding the most useful features that have been integrated into the design of the app. Users that complete the installation process for this app will be greeted with a convenient list of features, including access to a well-designed user-interface with several useful pages and resources.
You can refill orders, transfer prescriptions, and manage shipping options. There is also a special shipment tracking page that you can access at any time. All of the important details that you are looking for that relate to your orders and prescriptions are available within the app.
There is even a feature where you can snap a photo of your prescription label and begin the prescription-transfer process to the Humana Pharmacy app. This process is simple, convenient, and effective. The positive feedback ratings certainly express that the features available within this app are extremely popular among the active users of the Humana Pharmacy app.
Features

Users can access their Prescriptions and Orders, including Shipping Options and Payment Methods.

Take a Photo of Your Prescription Label to Immediately Begin the Prescription-Transfer Process

You can update Payment Information for your Prescriptions at any time within the App

Pros

Fast and Easy Prescription Management is Available within the App

Popular User Feedback

Compatible with Most Smartphone Devices

Cons

Minor Glitches do Exist within the App

Conclusion
We strongly recommend that you give the Humana Pharmacy Digital App a chance, especially if you have several prescriptions that you would like to manage within an organized user-interface. You can pay a visit to the customer ratings section on the App Store page to gain additional information from existing users that use the app on a regular basis.
There are several useful features that are not available in other apps, but the convenient design of this Humana Pharmacy app makes it one of the strongest candidates to consider