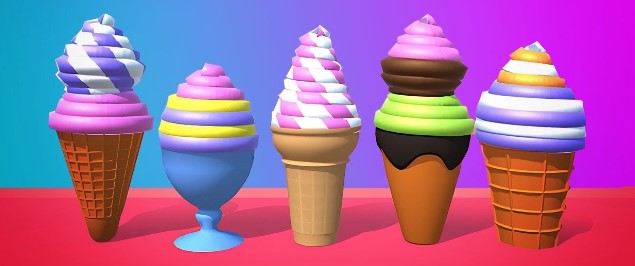 Have you ever wondered what it feels like to work at an ice cream shop? You might like to explore this with the Ice Cream Inc mobile app. Some delicious options are available, and it's fun to enjoy. You won't have to wait in line on a hot summer day to access the coolest zone in town right from your phone.
There are combinations to explore, and you'll be off to a good start with the classics and innovative flavor mixes. If you're a lover of ice cream, this app will make you feel at home with a theme that mimics the feeling of working for a soft-serve company. It's all about enjoying the timeless feeling of stacking soft serve and wanting yourself for hours. This is one of the most delicious distractions that everyone can enjoy. Let's explore how this app will benefit you along the way! Even if there are ads, it's worth trying to get the scoop on the latest games and enjoy this thrilling ice cream concept for mobile devices!
Ice Cream Inc.
Price: Free
Category: Casual
Version: Varies by device
Developer: TapNation

Uninstall the app:
1. Go to Settings menu
2. Choose Apps or Application manager
3. Touch the app you want to remove
4. Press Uninstall.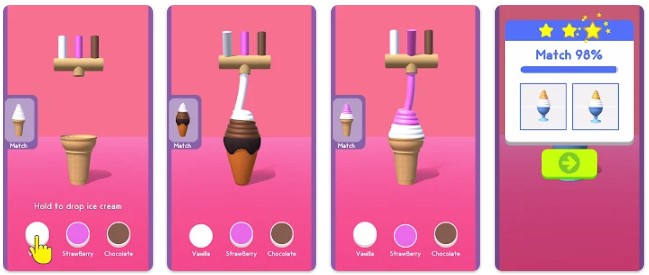 Features and Benefits
The first benefit of downloading Ice Cream Inc. is that you'll immediately notice how crisp the graphics are. The game simulates the relaxing feeling of flowing ice cream with a classic design for the machine. Only in this game, you won't have to worry about cleaning anything up, and it will be an endless stream of blissful deliciousness. It has relatively limited features and a simplistic interface, but this doesn't take away from the fun.
If anything, it improves the experience because there aren't complicated rules. You start with a blank cone waiting to be filled with a creamy treat. It's your job to make the ice cream flow and stack according to the picture. From there, you will be judged by your accuracy in the form of a percentage.
That's very simplistic yet highly addicting to craft the perfect cone. This puzzle game won't twist your brain too much and can be suitable for unwinding at the end of a hot day. There are comprehensive buttons you press to release the flow of ice cream and match the picture. It's easy to grasp and fun to execute for all ages. Another feature is the star rating you get at the end of any serving.
It will show how close you are to the original picture, and it's possible to get 100 percent! This is intensely rewarding and proves you're an expert at serving a delicious cone. Multiple classic flavors will help you make a fantastic creation. These include vanilla, chocolate, strawberry, and orange! This casual single-player game settles the nerves as the ice cream stacks up in coils.
The most prominent benefit is that you will get a relaxing experience while a slight challenge behind increasing your accuracy. There is a sense of progression as you get higher percentages and stars, but it doesn't get too crazy. Sometimes the best thing for the end of your day is to relax instead of think too critically. One hidden benefit of this app is it can simulate getting a treat instead of doing it. Of course, you won't get the flavors, but the visual appeal of ice cream is half the reason people enjoy this treat. You can take out your phone and enjoy soft-serve without worrying about the mess or buying a cone.
The graphics look crisp, even if there is only one screen with the cone. It can be seen as a mental safe zone away from the world where it's just you and your ice cream cone. This is a good app for helping younger people develop pattern recognition and problem-solving skills. You will thrive in the world of ice cream, and it won't come at the cost of a brain freeze. This is a fun mobile app for food-lovers to help you pass the time and keep you engaged with ice cream for hours! Each picture has different layers of flavors, and you might even discover some that will work well for real life! There are different levels to push through as the cones get more massive and complex. You earn gems and gold to enhance the experience further as you progress. Higher levels take an eye for the details, but it ensures you don't get bored too quickly!
Pro's & Con's
Pros
Decadent flavors to serve
Different flavor combinations
Puzzle solving theme is good for the brain
Decent graphics and simplistic concept
Stress relieving and relaxing vibe
Cons
Might make you hungry for ice cream
Could get boring after a while
A lot of ads to deal with
Some bugs need to be worked out
Conclusion
The Ice Cream Inc. mobile app caters to all ages and doesn't take a genius to enjoy. The simplistic interface makes this app fun because you don't have to think much to improve your accuracy. It's more about the aesthetic quality of ice cream and enjoying watching the machine work. You have the power to make new creations, even if it isn't in line with the pictures. Still, improving and discovering new flavors that work well together is good.
Increasing your star rating means you are getting better at matching over time. It keeps your brain active and gives you a sense of satisfaction when complete. This game relaxes the mind and is entertaining if you have a sweet tooth. This is stress-relieving and helps you gain some peace after a hectic day. Download and install the Ice Cream Inc. Mobile App today to discover multiple flavors and put them into action.