Searching for the perfect job is no easy task. With so many resources at your disposal, it can be hard to know where to begin. Even if you use a few different resources, you might end up missing out on a dream job that you didn't even know about. Thankfully, that's no longer an issue when you search for employment using Indeed Job Search. However, what makes this job finder app stand out from the others?
Indeed Job Search
Price: Free
Category: Business
Version: Varies by device
Developer: Indeed Jobs

Uninstall the app:
1. Go to Settings menu
2. Choose Apps or Application manager
3. Touch the app you want to remove
4. Press Uninstall.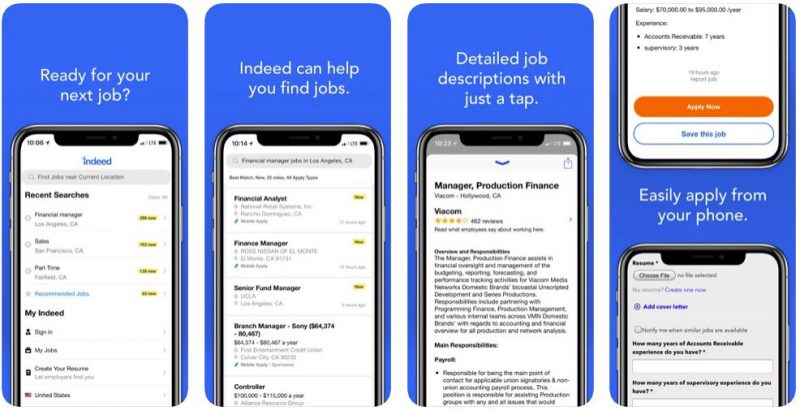 Find Millions of Jobs With One Search
While there are plenty of apps that help you search for local jobs, few of them offer as many results as Indeed Job Search. In fact, you can search millions of jobs from thousands of employers with just one simple search.
It doesn't matter where you live because Indeed Job Search can help you find a job near your location. In our testing, we searched for jobs in over 60 countries. Best of all, the jobs were listed in 28 languages, so there's something for everyone. Also, all of the searches were simple to set up and fast to complete. You can even use the GPS on your phone to locate local jobs quickly.
The only downside is that it can be a bit overwhelming. When you look for a job, though, it's better to be overwhelmed with opportunity than underwhelmed. With a database of over 16 million jobs, Indeed Job Search provides opportunities for people looking for any kind of work:
Full time.

Part time.

Freelance.

Contractual.

Internships.

Apply for Jobs in Your Career Field
Along with searching for jobs, you can use the Indeed Job Search mobile app to apply for jobs. Now, applying for local jobs that you are interested in is easier than ever before. After you download the app, fill out your Indeed Resume, which you will use to apply for jobs. Do you already have a resume? You can upload or import it as well.
Customize Your Experience
Another thing that I like about the Indeed Job Search app is the ability to customize your experience. It allows you to save your favorite jobs and follow companies for which you're interested in working. Then, you'll know right away if a job becomes available. Also, you don't have to worry about applying to the same job more than once because Indeed Job Search keeps up with all of the jobs that you've viewed and applied to.
Should You Download Indeed Job Search?
If you're looking for an easy way to search and apply for local jobs via your mobile device, Indeed Job Search is for you. The app is free to install and easy to use. While you'll need to fill out the Indeed Resume to get the most out of the app, it doesn't take long to complete. Before you know it, you'll be applying to any job that you're interested in.