Whether you're sick or simply busy, finding the time to shop for groceries on your own can be daunting. The Internet world has solved this problem with the invention of Instacart. This app gives you access to a team of shoppers who can fill your order and bring it over in no time at all. Learn all about grocery delivery in the 21st century.
Instacart: Grocery Delivery
Price: Free
Category: Shopping
Version: Varies by device
Developer: Instacart

Uninstall the app:
1. Go to Settings menu
2. Choose Apps or Application manager
3. Touch the app you want to remove
4. Press Uninstall.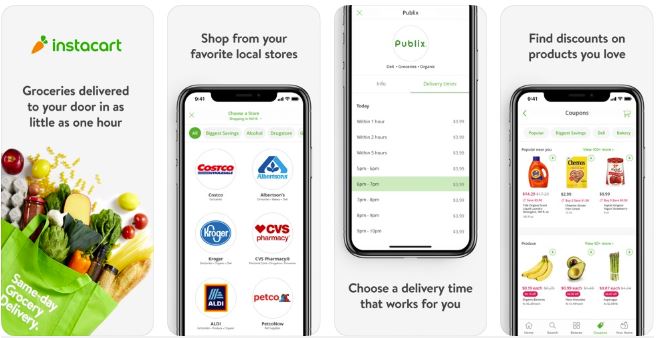 More Than One Store
Most apps designed for retail purposes are dedicated to one store. They demand all of your business. Within the Instacart Shopper app, however, you have a laundry list of shops to order from. Your location determines which shops are open to deliver through Instacart. Once the app knows where you are, a list appears on your device. Pick and choose the store that you require.
Most of the major grocery stores are available on this app, including drug and specialty stores too. Tap the store's icon to start your shopping.
Account Benefits
Creating an account after a download of this app will serve several purposes. Your account allows you to save favorite groceries and reorder with ease. It also gives you access to promotions and coupons based on your shopping habits.
The account is also a pathway to group shopping where you virtually meet up with loved ones and seek out the latest deals. Instacart is constantly being updated, so visit your account on a regular basis to see even more benefits popping up.
Watching the Delivery in Real Time
There's no reason to wonder about your grocery delivery. Its progress is shown on your device throughout the process. You'll know when the delivery person is at the store, and when he or she is on the way. Be ready to open the front door for the right person with this app. Safety is a primary concern.
Product Information Included
If you're the type of person who enjoys reading retail labels for product information, you can still perform this task online. During your order, read all about gluten, vegan or vegetarian options. Nutrition information is always available with each item. In fact, you can sort through the items at the store so that only certain categories pop up, such as no high fructose corn syrup. Shopping is actually easier with this virtual tool.
Chat Anytime
With your delivery in progress, you may have questions or additional items to put on the list. You don't have to wait until your next order to fulfill these needs. Pull up the chat feature, and send a secure message through the app. Exchanging phone numbers isn't necessary. The app does everything for you. With this feature, you can build a relationship with a delivery person so that future orders are easy and friendlier than ever before.
Install this mobile app on your phone right now. It takes just a few seconds to set up an account and fill your virtual cart. Be a champion in your household with groceries delivered whenever necessary. An empty pantry is no longer part of your week