Shop now and pay later is a slogan that's usually reserved for credit cardholders. What if you don't have a credit card but want to purchase a gift for a friend? That's where the Klarna shopping app comes in handy.
Klarna is an app that offers shopping loans to people new to credit. Users can use up to $300 in credit to purchase items and pay for them later. Klarna finances purchases for things like clothing, furniture, and electronics. The app has also integrated with major retailers like Overstock.com.
Klarna – Shop now. Pay later.
Price: Free
Category: Finance, Shopping
Version: Varies by device
Developer: Klarna Bank AB (publ)

Uninstall the app:
1. Go to Settings menu
2. Choose Apps or Application manager
3. Touch the app you want to remove
4. Press Uninstall.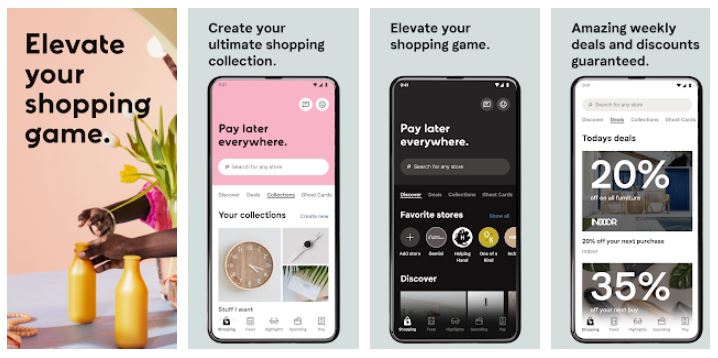 Klarna Features
* Shop anywhere from inside the Klarna app
* Buy things, pay later in four equal installments
* Create wishlists to keep track of specific items
* Receive price drop alerts on wishlist items
* Keep all shopping orders in the same place
Klarna Payment Options
Those eligible for a credit line through Klarna have a few options for paying it back. These options can be chosen at check-out, so you can choose the repayment plan that works for you.
Equal Pay Installments: Klarna's only interest-free financing option comes as four equal payments. The first payment is made the same day you buy and covers 25% of the initial cost of the item. The remaining payments are charged automatically every two weeks until the loan balance is repaid.
Try Before You Buy: This payment plan lets you buy an item and try it for 30 days. If the item is returned within 30 days, you won't pay interest. If you decide to keep the item and pay the balance in full, there is no interest fee.
Financing: Klarna's loan options for shopping online are as follows. Each loan can be paid from three to 36 months at a maximum APR of 19.99%. Promotional offers are available if the item is paid in full within six to twelve months. Payments to the loan are made online or using the Klarna mobile app.
Klarna Pros & Cons
Klarna is a great shopping app, but it does provide high-interest loans. Be sure you can pay off the loan before your promotional period ends. Otherwise, the annual APR will be very high. Let's take a look at some of the positives and negatives of shopping with the Klarna app.
Pros:
* Funds available instantly upon approval
* Equal payment installments have no interest fee
* Financing options available for those with no credit
* No minimum credit score required
* Financing at 130,000 merchants online
Cons:
* Email login can be annoying
* High APR loans outside of the promotional period
* $300 is the maximum amount borrowed per loan
Should I download and install Klarna?
Klarna is a great shopping app for anyone who needs to make purchases on a payment plan. The equal payments plan charges no interest as long as the balance is repaid in full on schedule.
Klarna's annual percentage rate of 19.99% is typically higher than most credit cards. If you already have a credit card, then Klarna may not be as useful to you.