The Kobo Books app has over 5 million eBook titles to choose from on both iOS and Android. The Kobo Books app also features a unique selection of audiobooks, curated by expert readers. Kobo offers a rewards program called Kobo Super Points for every purchase you make using the app.
The Kobo Books app offers several reading customization options for book lovers. Night mode makes bedtime reading easier on the eyes. You can also lock the app in portrait or landscape mode; useful if you like to read on your side.
On the audiobooks side, the Kobo Books app features a sleep timer and auto-sync across multiple devices. You can also share your favorite quotes and notes on what you're reading on Twitter, Instagram, and Facebook. Books are available in English, French, Spanish, Italian, German, Dutch, Portuguese and Japanese.
Kobo Books – eBooks & Audiobooks
Price: Free
Category: Books & Reference
Version: Varies by device
Developer: Kobo Books

Uninstall the app:
1. Go to Settings menu
2. Choose Apps or Application manager
3. Touch the app you want to remove
4. Press Uninstall.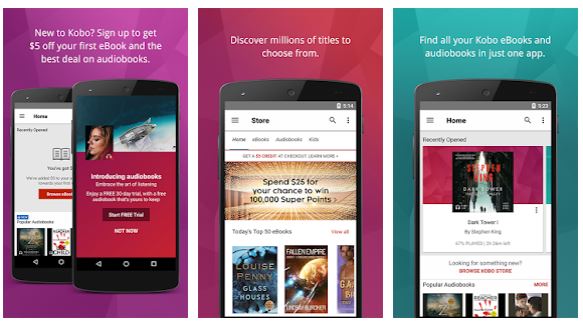 Kobo Books Mobile App Features
New Kobo members get $5 off their first eBook
New deals on select audiobooks every day
Kobo offers a free eBook selection
Trending and popular eBooks are updated hourly
Hugely customizable reading experience
Audiobooks and eBooks available in one app
Kobo Books Experience
Kobo Books offers a unique rewards program that will keep you coming back for more. New deals on audiobooks and eBooks rotate daily, so it pays to check the Kobo Books front page regularly. The app also offers a selection of free public domain eBooks for popular stories like Moby Dick and A Tale of Two Cities.
The popular audiobooks list in the app is curated by expert readers to highlight new audiobooks. One thing I do like about the presentation of content in the Kobo Books app is how easy it is to sort and filter. You can tag books by author or series to keep track of your entire collection. When you download Kobo Books, you can tag them immediately to add to your collection.
Highlighting passages for note-taking is also a breeze. Highlight colors work well on both white and black backgrounds. The default highlight colors can't be customized, however. The app also features integration with Wikipedia for looking up words, phrases, and concepts. You can also share your favorite passages on social media with just a tap. It's a handy way to keep your book-loving friends in the loop.
The Kobo Books app is well suited to either a smartphone or tablet. The app adapts well to larger resolutions and offers two-pane eBook viewing. The only negative here is that audiobooks are currently only available in a select few countries. Only the United States, Canada, United Kingdom, Australia, and New Zealand can listen to audiobooks when you Download Kobo Books.