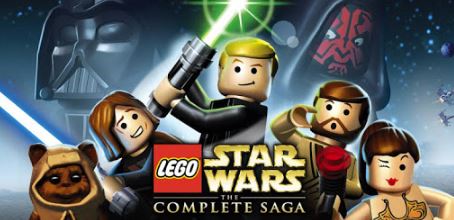 Lego Star Wars: The Complete Saga takes players through the movie stories that we have come to love. The game is broken up into Episodes and Chapters. If you have ever wished to immerse yourself in a world of Star Wars in a fun way, this game will certainly provide that experience.
Once you get over the fact that you are now playing within movie scripts, you will discover an amazing world. Yes, it is a world of Lego's, but make no mistake, The Force is awake in this game. You will interact with the Star Wars environment in unique and exciting ways. There are seemingly endless things to discover. Recall the massive ships and immersive worlds of the movies. Crevices, secret passages, or something else always seems nearby. Add to that the intricacies built into the game and you can get lost exploring most any Chapter. Unlike many games that add a lot of eye candy with no player interaction, developers go out of their way to create meaningful environments. You will be surprised about what you can use your lightsaber on.
LEGO Star Wars: TCS
Price: 6.99
Category: None
Version: Varies by device
Developer: Warner Bros. International Enterprises

Uninstall the app:
1. Go to Settings menu
2. Choose Apps or Application manager
3. Touch the app you want to remove
4. Press Uninstall.

Gameplay
This is an action game. It is designed to keep you moving. Developers should be commended by how they are able to keep players interacting with the world around them while simultaneously engaging the story line. What might be more ingenious is how we can interact. While there seems to be an endless amount of things to discover, one must be careful not to draw the wrong kind of attention or risk a battle.
Of course, you can just get right to the fighting and move quickly through each Chapter. The game is made for this type of action. However, The Force is intended to be much more than a weapon. This becomes apparent as the 'pew-pew' from the drone guns shoot pellets that look like glowing Tic Tacs. They seem boring by comparison to the sounds of the lightsabers.
As you move through the universe, you will find no shortage of force fields and challenging terrains. Navigating through this world while remaining aware of mission critical objects and characters will profoundly engage your mind. It is clear that a lot of thought went into every single Chapter scene.
Cool Features
One of the most distinctive features of Lego Star Wars: TCS is The Force. It can be used to build things, fly, attack, repair and heal. The game would not be the same without the ability to use The Force to manipulate the environments in this universe. You are also reminded that lightsabers are a weapon distinctive to The Force. This is unmistakable from the sound made when wielding them.
Other cool features include the ability to change characters at the tap of a button. And, if you are looking for something outside of the story line, you can choose from several Bounty Hunter and bonus missions. These features illustrate that the game is not about a single character, but rather a whole spirit-filled universe.
This is a game for Star Wars, space, and sci-fi enthusiasts who desire to escape into an alternate universe in which The Force rules. Imagine if you had the time to really explore the Star Wars universe instead of keeping pace with the movies. That's what Lego Star Wars: The Complete Saga is all about.