As a lifelong fitness enthusiast and successful trainer, I can honestly say that Lose Weight in 30 Days is one of the most well organized and motivational fitness apps that I have ever come across. It is nice to have access to my daily routine right upon opening the app. Success just feels inevitable.
One of the most glaring contributors to sticking points that I saw in my many years at the gyms and health spas was the lack of priority given to rest. Regular patrons tend to workout with nagging injuries that could be easily healed with proper rest. It is nice to see that the app designers set aside every fourth day for rest.
Lose Weight in 30 Days
Price: Free
Category: Health & Fitness
Version: Varies by device
Developer: Simple Design Ltd.

Uninstall the app:
1. Go to Settings menu
2. Choose Apps or Application manager
3. Touch the app you want to remove
4. Press Uninstall.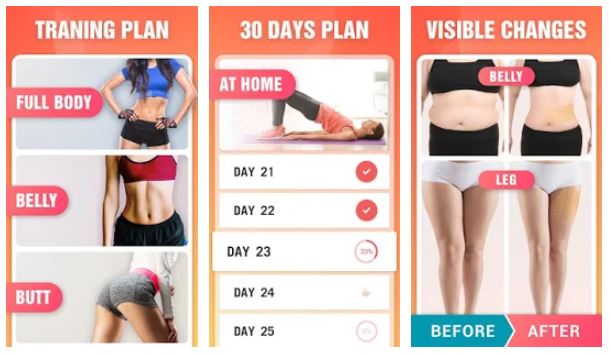 App Functions and Cool Features
The app makes getting started easy. As I began investigating the other functions, it became clear just how much went into creating Lose Weight in 30 Days. I instantly understood why it received so many five-star reviews. Below I highlight a few spectacular functions that you can find through the main menu:

home screen and basic functions

discover additional exercises

meal plans

personal reports

elaborate settings

The home screen makes days 1 through 30 easily accessible. There's a workout routine for every day along with associated time intervals. GIFs accompany exercises to make it easy to learn proper form. Each exercise is clearly labeled with the requisite repetitions. If you want more detailed information, just click on any exercise. Videos are also provided.
The app works just as well in action. A virtual coach is there to count off each repetition. You can also enable tips to play along with the cadence. Once an exercise is complete, you are instructed on how to begin the next one. Then, the process of counting down each repetition with exercise specific tips continues. The app makes it easy to save your favorite exercises as you perform them.
You can find a variety of additional exercises to compliment your normal routine. The app will suggests some that you might like. Categories are well thoughtout and make navigating the rest of the discovery section a pleasure.
Meals are planned for breakfast, a snack, lunch and dinner. Reports make tracking your overall fitness history very easy. The reports section includes everything from a calendar to your BMI and calories burned for a particular day.
I was surprised by how much went into the settings section. It adds a very high degree of personalization for every aspect of your fitness routine. Don't worry if you feel that you need to restart your progress. This can be done with two easy clicks.
Lifelong Fitness with a Personalized Plan
An extended Personalized Plan provides encouragement for your lifelong pursuit of fitness. Scheduling is well done and designed for 15 to 20 week long segments. You will be able to target your trouble zone(s) and tailor your meals to a standard or vegetarian diet. The focus of the extended plan is on improving your current level of fitness by 25%.
Removing adds only costs a onetime payment of $2.99. You get a free trial of all the app's features for 7 days, and for $39.99, you are given access for the year.