Here's a cute FREE online game that's very entertaining. Mario Kart Tour is one of the funniest mobile apps to download on your smartphone, and always so captivating! One minute you're riding down the path, next minute you're avoiding obstacles in the course. Download the app and install it on your iOS or Android device. Mario and his buddies will travel to various destinations and make you race around the universe. These are real-world locations where Mario will be weaving through with his kart. Make sure you play the alternating two-week tours.
Mario Kart Tour
Price: Free
Category: Adventure, Racing
Version: Varies by device
Developer: Nintendo Co., Ltd.

Uninstall the app:
1. Go to Settings menu
2. Choose Apps or Application manager
3. Touch the app you want to remove
4. Press Uninstall.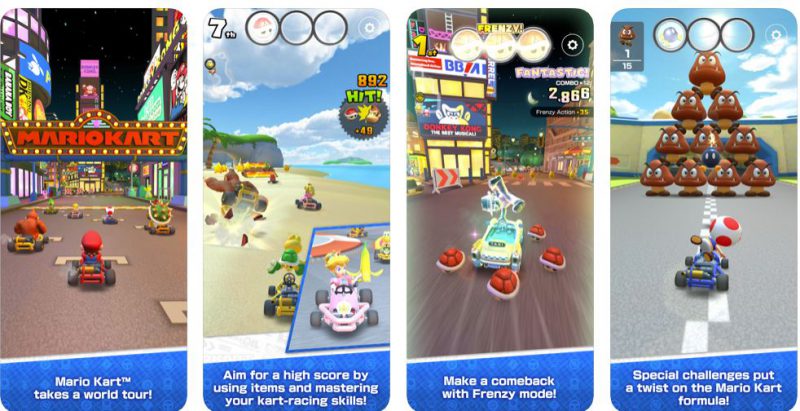 Discovery Mode
If you're familiar with the Mario games series, you'll be able to play double-quick and enjoy using new devices each time. Mario Kart characters will be spending a lot of time together. The nicest part is that you'll be able to get a flavor of each city that's featured in the different games. It's a good way to discover new places. Travel to destinations where you've never been.
Blazing World Tour
Using a single finger, go for the gold cup. You can maneuver your way around and steer with ease through the classic and newer courses within the Mario Kart Tour. Incorporating iconic spots that are on the tour is easy. Watch out! Don't bump into the mushrooms! Power-Ups, like the oil slicks, can get your competitors out of the race in no time.
Gameplay Strategy
Your plan of action should be to try for the bonus challenges that are available to you. Characters you can play such as "Goomba Takedown" and "Vs. Mega Bowser" provides a different approach. These are not traditional races. You may not always get into 1st place position either. They require an out-of-the-way strategy and a special Gameplay approach.
Endless Frenzy
Use your smart device to install the Mario Kart Tour mobile app and get busy with hours of entertainment. When you activate Frenzy mode, you'll become invincible! Access unlimited items for a short moment. You must be quick and agile, as this mode won't last long! Play with up to seven other people online. Combine all the points and win one or all of the 16 different cups. There are 64 courses in all. Customize your vehicle. You can eventually collect all of the drivers. There are 35 different ones driving custom vehicles.
The list of all the characters for the Mario Kart Tour game are:

Mario, Luigi, Bowser, Yoshi, and Toad

Peach and Daisy are almost like sisters

Princess Rosalina

Gold and Metal Mario

Toadette the lightweight, hidden racer

Bowser Jr., Wario, and Waluigi

Baby Mario and his brother Baby Luigi

Baby Princess Rosalina and Peachette

Donkey Kong and his friend Diddy Kong are friendly gorillas

Dry Bones and Dry Bowser

Lakitu, Larry Koopa, Morton Koopa, Jr., Wendy O. Koopa, Iggy Koopa

Lemmy Koopa, Ludwig von Koopa, Roy Koopa, and Koopa Troopa

Shy Guy who wears a mask and King Boo, leader of the ghosts

Online Ranking
It's a race for high scores. That's how you'll be compared to all players, including the international ones. The key is to try out the karts, gliders, and drivers by mixing and matching the ones you feel will make you excel over your opponents. You can rise to the top in no time!
Winner Takes All
Stars can be earned if you fire off the pipe or by racing away. Now you'll get more gliders, karts, and drivers. Your badges will display your wins. Players can have an in-game name if they desire. You've earned them by completing each challenge that got in your way.